2021 Summit Registration & Payment Details
The 15th-annual Global Wellness Summit will take place in
Boston, US, from Tuesday, November 30 to Friday, December 3

If you haven't attended a previous Summit, apply to be an in-person delegate here.
Media can apply to attend the 2021 Summit here.
Virtual attendees may proceed directly to registration, no pre-approval is required.
Your health and safety are paramount; all in-person delegates will be required to show proof of vaccination.
Registration & Fees
Registration is now open for qualified delegates! Click HERE to begin the registration process.
| | |
| --- | --- |
| Registration Type | November 1 – Summit |
| In-person Delegate, Speaker, Sponsor | $ 4,550 |
| In-person Spouse | $ 2,185 |
| Virtual Attendee | $ 750 |
The in-person delegate registration fee includes:*
• All general and breakout sessions
• Access to the Global Wellness Institute's research that will be released at the 2021 Summit
• In-person access to the Technology Pavilion
• Lunches, breaks, dinners, social events and activities
• A printed copy of the 2021 Delegate Directory
• Sponsor tote bag and collection of sponsor gifts
• Access to online videos and presentations
The in-person spouse registration fee:
This discounted spouse rate is a special offer for the spouses of registered delegates. Please note that spouses are invited to attend all conference sessions and social functions, but they will not receive a copy of the Delegate Directory.
The virtual attendee fee:*
The 2021 Global Wellness Summit will be a hybrid event. The Summit's virtual attendee fee includes:
• Access to all sessions that take place on the main stage of the 2021 GWS at the Encore Boston Harbor, including keynotes, presentations, panels and more
• Access to online videos and presentations after the Summit
• Access to the Global Wellness Institute's research that will be released at the 2021 Summit
(*If multiple invitees from a common organization would like to attend, each invitee must register individually at the full delegate rate.)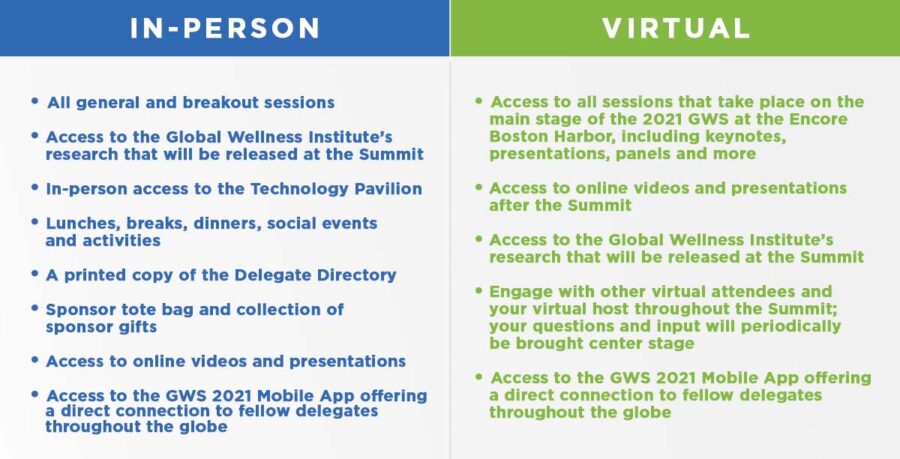 Terms and Conditions:
The Global Wellness Summit is an invitation-only event for senior executives, and invitations are non-transferable. The Summit registration fee does not include the cost related to accommodations or travel. A credit card is required to confirm your registration. Payment must be made in full before your registration is considered complete. Requests to pay by invoice must be submitted via email to Kendra Kobler at [email protected]. Invoices must be paid in full before your status as a registered delegate is confirmed.
The Summit relies heavily on delegate registration fees and limited sponsorships to develop high-quality programs. Registered delegates (including speakers, sponsors and press) or spouses who cancel their registration before and including September 1, 2021 will receive a full refund, minus a US$400 processing fee. Registered delegates or spouses who cancel between September 2, 2021, and October 15, 2021, will receive a 50% refund.  
After October 16, 2021, no refunds will be given, and please note, we are not able to make any exceptions. We apologize in advance.
The $750 fee for the Virtual Attendance is non-refundable.
Before we issue a refund, we must receive your cancellation request in writing along with a completed refund request form at this link. 
A registration may be transferred to another senior person within the company or the leader of a major division or region within the company. To do so, please fill out this delegate application form, and the nomination committee will evaluate the eligibility of the substitute delegate and notify you.
If the Global Wellness Summit is not held as scheduled, the registration fee may be applied to the rescheduled event or to a future Summit held within two years. 
About the Global Wellness Summit
The Global Wellness Summit (GWS) is an invitation-only international gathering that brings together leaders and visionaries to positively shape the future of the $4.5 trillion global wellness economy. Held in a different location each year, Summits have taken place in the US, Switzerland, Turkey, Bali, India, Morocco, Mexico, Austria, Italy and Singapore.
Thank You to the 2021 Global Wellness Summit Sponsors