Media Contact: Beth McGroarty
[email protected] • +1.213.300.0107
Attention Students: Do You Have a Big Idea for the Next Wellness Business Concept? 2021 "Shark Tank of Wellness" Is Open for Entries!
Global Wellness Summit is accepting submissions for its sixth annual "Shark Tank of Wellness" student competition now through June 30; top three finalists compete in person for $10,000 in prize money at conference in Tel Aviv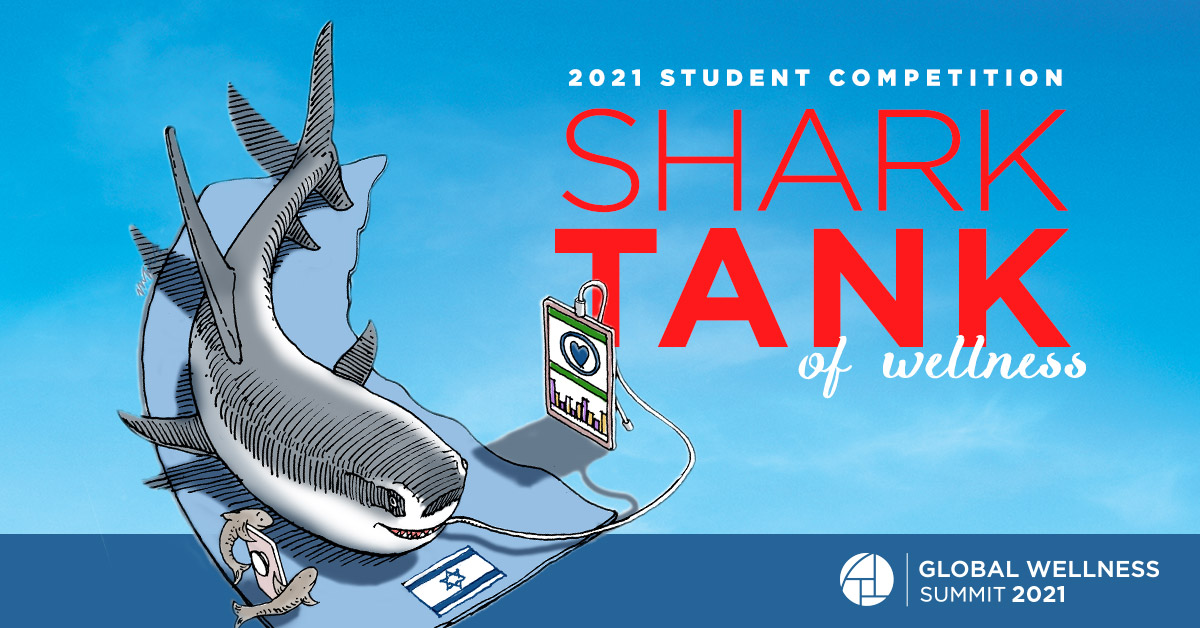 Miami, FL – April 6, 2021 – The Global Wellness Summit (GWS), the foremost gathering of international leaders in the multitrillion-dollar global wellness economy, is now accepting submissions for its sixth annual "Shark Tank of Wellness" student competition. The contest is open to undergraduate and postgraduate students (18 years and older) from around the world; entries will be accepted through June 30, 2021. Click to learn more.
Contestants are vying for $10,000 in prize money, with the first-place winner receiving $5,000, second place $3,000 and third place $2,000, which can be used toward kick-starting their business concepts. The top three finalists will be announced at the end of August and will be flown to Tel Aviv, along with their faculty advisor, to attend the 15th annual Summit in Tel Aviv, Israel, taking place November 15–18, 2021.
Entries will be judged on their viability and can serve any aspect of the wellness industry, including architecture/design, beauty, education, fitness, hospitality, medicine, nutrition, real estate, spa, technology, workplace wellness and tourism. Finalists will present their concepts in person to a panel of "Wellness Sharks" in front of an audience of global business and thought leaders.
"It's exciting to be hosting the sixth annual Shark Tank-style student competition in Israel, the 'Start-Up Nation.' The country is second only to Silicon Valley when it comes to innovation, and Tel Aviv is ground zero for health and wellness technology and investment," said Chief Creative Officer & Executive Director Nancy Davis.
Tel Aviv is home to more start-ups per capita (6,000+) than anywhere in the world, and no place has such a dizzying mix of technologies and innovators in one place. According to the 2021 Bloomberg Innovation Index, ranking the most innovative countries, Israel takes the #1 spot for both research and development intensity and research concentration. Even during the pandemic, Israel's tech industry had a banner year, attracting over $24 billion in capital.
Frank Pitsikalis, founder and CEO of Canada-based ResortSuite and a Wellness Shark since the competition's inception in 2016, said: "As a big supporter of innovation and creative young minds entering the wellness industry, I have been truly blown away by the quality of the submissions—even those that don't make the final three. I'm positive that one or more of these winners will one day have a commercially successful product that truly changes the world, and our wellness, for the better. I'm proud to support GWS's commitment to the next generation of wellness innovators."
In 2020, Krysta Silva, from Atlanta, Georgia's Savannah College of Art and Design, took first place honors ($5,000) for her allergy sensing fork, Samii. The runners-up were Balazs Csatlos, from Hungary's University of Pannonia, for the Sleeping Beauty sleep mask, a new high-tech solution for getting a good night's sleep, and Liam James Campbell, also from the Savannah College of Art and Design, for Melo, a multifunctional pregnancy pillow to enhance sleep/rest.
Students are asked to submit a Concept Submission Form detailing their viable business idea and a one-to-two-minute video presentation. Learn more here.
For more information about the opportunity to support wellness innovation through sponsorship of the 2021 "Shark Tank of Wellness" competition, contact Michelle Gamble ([email protected]).
About the Global Wellness Summit: The Global Wellness Summit is an organization that brings together leaders and visionaries to positively shape the future of the $4.5 trillion global wellness economy. In addition to an annual conference held at a different location around the globe, GWS also hosts regular virtual gatherings, including Wellness Master Classes, Wellness Sector Spotlights and Investor "Reverse Pitch" events. The organization's annual Global Wellness Trends Report offers expert-based predictions on the future of wellness. The next GWS will be held in Tel Aviv, Israel, November 15–18, 2021.