Media Contact: Beth McGroarty
[email protected] • +1.213.300.0107
Emerging Wellness Entrepreneurs Will Pitch Innovations During "Shark Tank of Wellness" Competition at 2018 Global Wellness Summit
Wellness sharks from Chiva-Som, Circadia, Hyatt Hotels, ResortSuite and Weight Watchers will question three finalists on the main stage to determine winning wellness concept from a record 150 submissions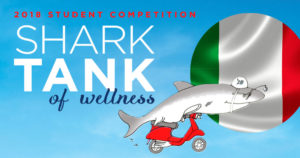 Miami, FL – August 15, 2018 – The Global Wellness Summit (GWS), the foremost gathering of international leaders in the $3.7 trillion global wellness economy, today announced that the three finalists in its annual "Shark Tank of Wellness" competition were chosen after reviewing a record of over 150 submissions received from students around the globe.
The panel of real-world wellness experts (aka "Wellness Sharks") will judge the business viability of each of the concepts, which can serve any aspect of the wellness spectrum – from technology to architecture to spa design. Students will be put to the test in front of a live audience of over 600 executive business and thought leaders in global wellness during the 12th annual GWS at Technogym Village, Cesena, Italy from October 6-8, 2018.
This year's sharks are executives from a varying array of key wellness industries:
-Karen Campbell, Business Development Consultant at Chiva Som (Thailand), a pioneer in the health and wellness resorts
-Mindy Grossman, CEO of Weight Watchers (USA), a wellness company and leading commercial weight management program
-Frank Pitsikalis, Founder & CEO of ResortSuite (Canada), software for managing guest information and streamlining operations in spas, clubs, hotels and resorts
-Michael Pugliese, Owner & CEO of Circadia Skincare (USA), a professional skincare brand based on the skin and body's natural circadian rhythms
-Mark Vondrasek, Chief Commercial Officer of Hyatt Hotels (USA), a leading global hospitality company with a portfolio of 14 premier brands and more than 700 properties
The top three finalists and their professors will be flown to the conference taking place in Italy to compete for $10,000 in prize money (1st prize $5,000; 2nd prize $3,000; 3rd prize $2,000). In addition to prize money, airfare and hotel accommodations, the competitors will be immersed in the business of wellness, attending the full three-day conference, including all general sessions, breakout discussions, industry forums and gala social events.
"This is a great opportunity for the finalists, our sharks and, of course, all of the delegates who get front-row seats to the wellness ideas of tomorrow," said Susie Ellis, GWS Chairman and CEO.  "It was extremely difficult to find our three finalists from the over 150 thought-provoking and inspiring entries. We were astounded by the number of concepts that addressed mental wellness, and the variety of topics covered such as architecture, beauty, nutrition, fitness, marketing, seniors, hospitality and children."
The invitation-only conference is expected to attract well over 600 delegates. This year's theme "Shaping the Business of Wellness" will focus on the ten sectors that make up today's multi-trillion wellness economy: beauty, healthy eating, wellness tourism, fitness/mind-body, preventive/personalized medicine, complementary/alternative medicine, wellness lifestyle real estate, the spa industry, the thermal/mineral springs market and workplace wellness.
The Global Wellness Summit is the world's leading conference on the business of wellness and is always a sold-out event. To apply to attend, click here.
About the Global Wellness Summit: The Global Wellness Summit is an invitation-only international gathering that brings together leaders and visionaries to positively shape the future of the $3.7 trillion global wellness economy. Held in a different location each year, Summits have taken place in the U.S., Switzerland, Turkey, Bali, India, Morocco, Mexico and Austria. The 12th-annual Summit will be held at Technogym Village, Cesena, Italy from October 6-8, 2018.