Media Contact: Beth McGroarty
[email protected] • +1.213.300.0107
Antonio Citterio, Globally Renowned Architect and Designer, to Keynote 2018 Global Wellness Summit
Award-winning Italian architect and designer to share his vision of the future of wellness architecture and interior design at 12th annual Summit taking place October 6-8 in Italy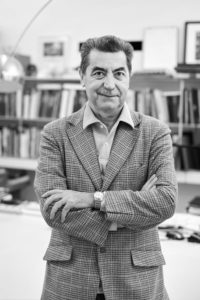 Miami, FL – March 21, 2018 – The Global Wellness Summit (GWS), the foremost gathering of international leaders in the $3.7 trillion global wellness economy, today announced that Antonio Citterio, award-winning architect/designer and the visionary behind the design of this year's conference venue, the Technogym Village in Cesena, Italy, will keynote at this year's Summit.
Citterio is co-founder of the multi-disciplinary design practice of Antonio Citterio Patricia Viel, which works in architectural, interior and urban design. The firm's projects include residential and commercial complexes, corporate headquarters and hotels, including all Bulgari Hotels and Resorts worldwide. Citterio is also renowned for his understated and enduring human-centric product design for brands like Hermès, the Hansgrohe Group's luxury brand AXOR, and Technogym.
"There is an increasing awareness that our surroundings affect our well-being and 'building well to live well' has become a distinct rallying call. Antonio Citterio is a global superstar in this arena," said Susie Ellis, CEO and chairman of the Global Wellness Summit. "Italy is famous for its outstanding and forward-thinking design, and Antonio is the personification of this well-deserved accolade. He will inspire and delight Summit delegates."
Citterio has been awarded the prestigious Compasso d'Oro-ADI twice and his creations are included in MOMA's permanent collection. He was also a professor of Architectural Design at the Mendrisio Academy of Architecture (Switzerland) for 10 years.
"I am passionate about addressing the audience at the Global Wellness Summit and sharing my ideas about the future of design and how it will impact wellness," said Antonio Citterio. "Since 2000, our firm has worked to design healthy environments at hospitality venues and in workplaces, such as the Technogym Village, as well as create designs for fitness equipment. The Summit is the ideal conference to discuss why designing for health and wellness is of such importance."
"Antonio Citterio is with no doubts among the most prominent architects in the world. Over the years, Antonio has also become a wellness expert, since alongside his many prestigious appointments both in architecture and industrial design, he has cooperated with Technogym and designed the Technogym Village and our Personal Collection products," said Technogym Founder and President Nerio Alessandri. "I look forward to welcoming delegates to the 2018 Global Wellness Summit, where they will be able to connect with his vision on wellness design."
The Global Wellness Summit is the world's largest conference on the business of wellness. Ellis noted that the Summit is 'invitation-only' and first-time delegates should apply to attend as soon as possible as it is always a sold-out event.
For images, click here.
About the Global Wellness Summit: The Global Wellness Summit (GWS) is an invitation-only international gathering that brings together leaders and visionaries to positively shape the future of the $3.7 trillion global wellness economy. Held in a different location each year, Summits have taken place in the U.S., Switzerland, Turkey, Bali, India, Morocco, Mexico and Austria. The 12th annual Summit will be held at Technogym Village, Cesena, Italy from October 6-8, 2018.