Media Contact: Beth McGroarty
[email protected] • +1.213.300.0107
"Shark Tank of Wellness" Student Competition Now Open: Global Wellness Summit Offers Unique Opportunity for Wellness Entrepreneurs to Pitch Innovations
Submissions for the fourth annual student competition accepted through May 15; top three finalists will be hosted at the Summit in Hong Kong and compete for $10,000 in prize money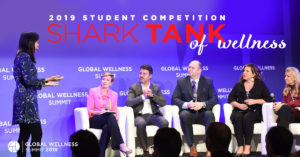 Miami, FL – March 11, 2019 – The Global Wellness Summit (GWS), the foremost gathering of international leaders in the $4.5 trillion global wellness economy, today announced that students wanting to participate in its fourth annual "Shark Tank of Wellness" competition can submit ideas now through May 15, 2019. The contest is open to undergraduate and postgraduate students (18 years and older) around the world.
Three finalists will be chosen among the anticipated 100+ student submissions to present their concept to the "Wellness Sharks," who will question them in front of an audience of 600+ business and thought leaders at the 13th annual Summit, which will take place at the Grand Hyatt Hong Kong from October 15–17, 2019. The finalists vie for $10,000 in prize money, with the winner receiving $5,000, the second place winner receiving $3,000 and the third place winner receiving $2,000 toward kick-starting their business concepts.
"Our Shark Tank-style competition is always a highlight of the Summit. Delegates enthusiastically embrace the lively Q and A between today's wellness leaders and tomorrow's wellness entrepreneurs who passionately present their inspirational wellness concepts of the future," said Chief Creative Officer & Executive Director Nancy Davis.
Submissions are judged on their viability and can serve any aspect of the wellness spectrum, including architecture/design, beauty, education, fitness, hospitality, medicine, nutrition, real estate, spa, technology, workplace wellness, tourism, etc.
Last year's first prize went to Maria Mu of Cornell University for her sleep technology concept, Bellumo. Aimed at helping hundreds of millions of people worldwide that have trouble falling asleep at night, Bellumo is a glowing, hanging mobile that guides users through breathing exercises to help them fall into sleep. Runners up included Ece Nur Temel from Istanbul Technical University for her concept Yoga Lounge, a personal yoga space (or pod) designed for use throughout airports and Niccolo Saltarelli from Les Roches Global Hospitality Education (Switzerland) for his concept CampWell, an innovative health and wellbeing-focused summer camp that pairs young adults with camp counselors from an older generation to enhance intergenerational bonding.
"The 'Shark Tank of Wellness' is an incredible opportunity for entrepreneurially-minded students to pitch their unique innovations to global wellness leaders, but it's also a huge opportunity for Summit delegates to get a glimpse into how the next generation sees the future of wellness unfolding," said Frank Pitsikalis, founder and CEO of ResortSuite and a "Wellness Shark" since the competition's inception.
In addition to ResortSuite returning as a sponsor, both Circadia Skin Care (US) and Chiva-Som (Thailand) will also return. Executives from each sponsoring company take to the stage as "Wellness Sharks."
Students are asked to submit a Concept Submission Form detailing their viable business idea and a one-to-two-minute video presentation. Submissions are being accepted from February 15 through May 15, 2019, and students can begin the registration process here (https://www.globalwellnesssummit.com/2019-global-wellness-summit/shark-tank-of-wellness-student-competition/).
For more information about the opportunity to support wellness innovation through sponsorship of the 2019 "Shark Tank of Wellness" competition, contact Michelle Gamble ([email protected]).
The Global Wellness Summit is an invitation-only gathering for senior executives and wellness thought leaders; first-time delegates should apply to attend as soon as possible as the Summit is always a sellout event.
About the Global Wellness Summit: The Global Wellness Summit is an invitation-only international gathering that brings together industry leaders and visionaries to shape the business of wellness and the future of the $4.5 trillion global wellness economy. The gathering is held annually in different locations across the globe and has taken place in the US, Switzerland, Turkey, Bali, India, Morocco, Mexico, Austria and Italy. The 13th annual Summit will be held at the Grand Hyatt Hong Kong from October 15–17, 2019.