Media Contact: Beth McGroarty
[email protected] • +1.213.300.0107
---
Global Wellness Summit  |  Global Wellness Institute   |  Press Image Gallery  |  Press Release Archive 
---
Global Wellness Summit Announces Finalists for the 8th Annual "Shark Tank of Wellness" Student Competition
356 student teams from 22 countries competed to become one of three finalists selected to present their innovative wellness concepts in person at the event in Doha, Qatar this November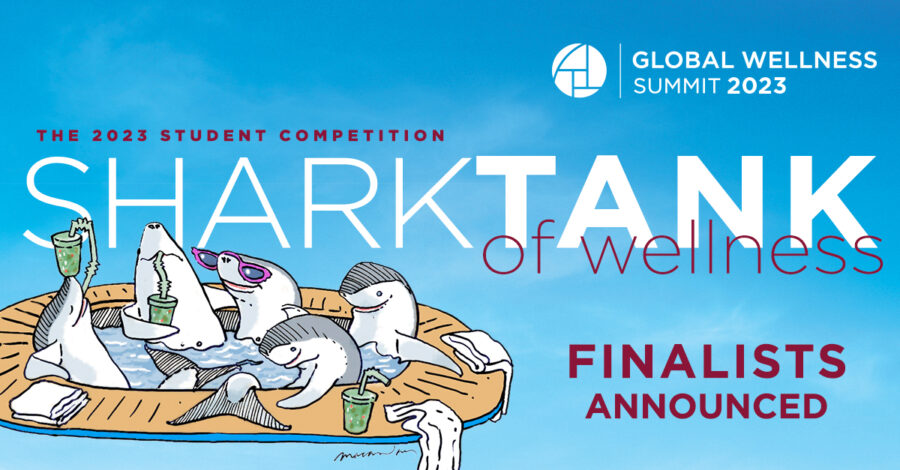 Miami, FL – September 27, 2023 – The Global Wellness Summit (GWS), the most prestigious conference on the $4.4 trillion business of wellness, is pleased to announce the three student finalists selected to present their wellness business concepts to a panel of "Wellness Sharks" at the 2023 GWS in Doha, Qatar, November 6-9. The finalists were chosen in a blind judging of the over 350 entries from 22 countries.
The aspiring entrepreneurs whose innovative wellness business concepts were chosen to be presented in person at the Summit include Sydney DeVilla, from Savannah College of Art and Design (US), Judith Nduati from Edinburgh Business School (UK) and Annie Pham Quynh from Fulbright University Vietnam. In addition to competing for $10,000 in cash prizes, the three students and their sponsoring professors receive airfare and hotel accommodation, and exclusive access to the three-day Summit.
Among this year's accomplished Wellness Sharks who will grill the finalists on stage are Frank Pitsikalis, vice president of strategy at Agilysys (Canada); Alex von Bidder, chairperson of the Board of Directors at Rancho La Puerta (US); and Heinrich Morio, general manager of Zulal (Qatar).
"The Shark Tank of Wellness provides an exceptional opportunity for aspiring young innovators with new and groundbreaking wellness business ideas. Finalists will not only be able to experience the Summit's inspirational keynotes and panels, but they can also forge invaluable business connections while at the event," said Frank Pitsikalis, a committed Wellness Shark who has participated in the competition for each of the eight years that it's been part of the Summit program.
"We are thrilled at the number and quality of entries received this year," said Nancy Davis, chief creative officer & executive director at GWS. "They were truly exceptional, demonstrating the immense talent and creativity of students throughout the world, and their interest in the wellness industry. The 'Shark Tank of Wellness' is an incredible opportunity for these young entrepreneurs to gain recognition, funding, and invaluable industry insights. We look forward to seeing their ideas come to life and inspire the future of wellness."
Registration for the 2023 Summit is now open. Apply here.
About the Global Wellness Summit: The Global Wellness Summit is an organization that brings together leaders and visionaries to positively shape the future of the $4.4 trillion global wellness economy. In addition to an annual conference, held at a different location around the globe, GWS also hosts regular virtual gatherings, including Wellness Master Classes and collaborative Wellness Sector Spotlights, and, each year, it holds an in-person Wellness Real Estate & Communities Symposium. The organization's annual Global Wellness Trends Report offers expert-based predictions on the future of wellness that are oft-quoted in the media. The 17th annual GWS will be held in Qatar, November 6-9, 2023.