Media Contact: Beth McGroarty
[email protected] • +1.213.300.0107
---
Global Wellness Summit  |  Global Wellness Institute   |  Press Image Gallery  |  Press Release Archive 
---
New Season of the Global Wellness Summit Podcast Kicks Off in Conversation with Dr. Michael Roizen, Longevity Expert with the Assertion That "90 Will Become the New 40"
The Global Wellness Summit's 6th podcast season includes conversations with Dr. Michael Roizen, author of The Great Age Reboot; Belgin Aksoy, Founder of Global Wellness Day; Carolee Lee, Founder of WHAM; and Global Wellness Summit CEO Susie Ellis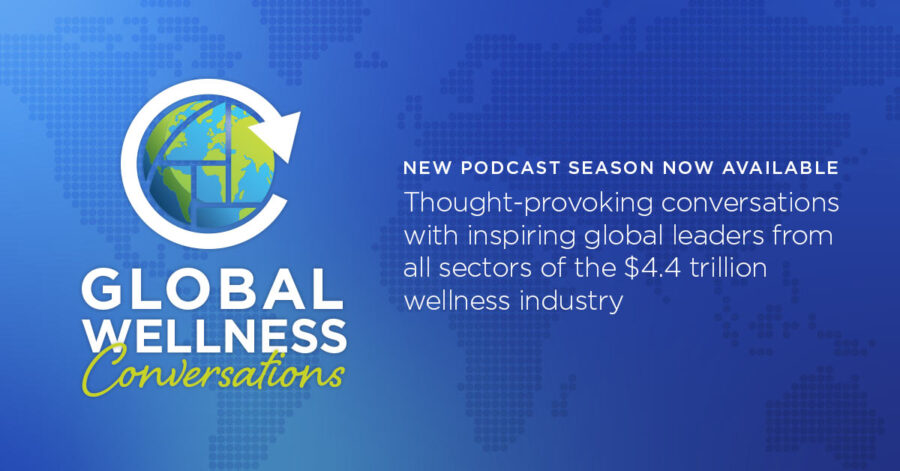 Miami, FL – June 6, 2022 – The Global Wellness Summit (GWS) has released the 54th episode of its popular wellness podcast, which now can be found under its new name: Global Wellness Conversations (GWC). First recorded at the 2019 GWS in Singapore, GWC has grown into a year-round series featuring inspiring, thought-provoking conversations with leading voices in the business of wellness. While informed by the annual Summit, the podcast name change reflects the approachable and practical conversational dialogue in each episode, allowing wellness thought leaders to inspire not only with deep industry insights but also with their rich personal stories and business highs and lows.
The GWS is an organization that brings together industry luminaries to positively shape the future of the $4.4 trillion global wellness economy. Its annual gathering, held at a different location around the globe each year, is where thought leaders and experts from the worlds of medicine, science, business, technology, investment, academia, design and hospitality come together to shape the future of wellness globally.
The GWC podcast—which for the first time this season will also post videos of each interview on the GWS YouTube Channel—makes topics influencing the business of wellness accessible to the world at large. This dynamic communications platform also provides another avenue for discussing the Global Wellness Institute's (GWI's) Wellness Moonshot: A World Free of Preventable Disease by sharing practical, research-backed information that listeners can apply in their own lives. The topics range from the role of the gut biome to tips for financial wellness; from the nuances of wellness architecture to the science of sleep.  Host, Kim Marshall, a 25-year veteran of the wellness industry, acts as an entertaining and humorous conduit between the experts and podcast listeners.
Podcast guests this season include:
Michael Roizen, Professor, Learner College of Medicine of Cleveland Clinic at Case Western Reserve University and Chief Wellness Officer Emeritus, Cleveland Clinic — The author of four New York Timesbest sellers, the host of a weekly podcast and syndicated newspaper column, Dr. Roizen was also the Co-Chair of the 2021 Global Wellness Summit in Boston. We explore why he has the audacity and insight to make the claim that soon "90 will be the new 40."
Belgin Aksoy, Founder of Global Wellness Day (GWD) — Learn how this cancer survivor's vision became a reality and how GWD grew from a one-day event dedicated to sharing free wellness education and experiences in one country in 2014 to what it is today: a wellness event celebrated in 7,000 locations in 150+ countries on six continents and endorsed by Oprah Winfrey.
Carolee Lee, Founder of Women's Health Access Matters (WHAM) — Hear how the creator of one of the fashion industry's most popular accessory brands used her powerhouse circle of female friends to change a long-accepted reality in the medical world. Before founding WHAM, women were historically left out of clinical trials, with findings defaulting to the male "norm," even when specific diseases affected women up to three times more.
Susie Ellis, Co-Founder and CEO of the Global Wellness Summit & Global Wellness Institute — Find out the origin story behind this modern-day wellness icon. Hear how she learned at the "feet of the masters" and was driven to establish credibility for the wellness industry by establishing an independent research institute that quantifies the global wellness economy and provides scientific evidence supporting wellness modalities. Ellis shares her organization's forward-looking trends for 2022 and her predictions for the future of the business of wellness.
"Episodes of Global Wellness Conversations take a deeper dive into wellness topics that matter, and, crucially, expose more people to the important work both organizations are doing," explains Nancy Davis, Chief Creative Officer & Executive Director for both GWS and GWI. "Our goal with the podcast is to bring our content—including research findings, trend reports and Summit speakers—to an even larger audience. Kim's background in and passion for the wellness industry coupled with her natural warmth makes each episode interesting and delightful. It's like listening to conversations between friends."
This season's sponsor is Access Corporate Group (ACG)—an innovative brand management company with offices in US, Canada, China, Australia and New Zealand that oversees a family of online wellness and beauty brands found at www.vtnstore.com and a marketplace of 100,000 influencers who share their knowledge and experience with the platform's 12 million users. ACG's proprietary ecosystem of business intelligence, product development, influencer marketplace, international distribution and marketing has resulted in a dynamic international success story in the world of wellness retail.
S'Well The Agency, a public relations and strategic firm specializing in wellness storytelling, produces the Global Wellness Conversation podcast with Nova Media, a full-service podcast production agency. The GWC podcast is free to listen to on Apple & Google Podcasts, Spotify, Audible, and everywhere podcasts are available.
Images to accompany this news are found here.
About the Global Wellness Summit —The Global Wellness Summit is the premier organization that brings together leaders and visionaries to positively shape the future of the $4.4 trillion global wellness economy. Its future-focused conference is held at a different global location each year and has traveled to the United States, Switzerland, Turkey, Bali, India, Morocco, Mexico, Austria, Italy and Singapore. GWS also hosts other virtual and in-person gatherings, including Wellness Master Classes, Wellness Sector Spotlights, Investor "Reverse Pitch" events and Symposiums. The organization's annual Global Wellness Trends Report offers expert-based predictions on the future of wellness. The 2022 Summit will be held in Tel Aviv, Israel from October 31–November 3.