Media Contact: Beth McGroarty
[email protected] • +1.213.300.0107
Global Wellness Summit Comes to Life in 21-Episode Podcast Series
Listeners get an insider's view at the happenings and revelations at the 2019 Summit, along with insights from the wellness world's preeminent thought leaders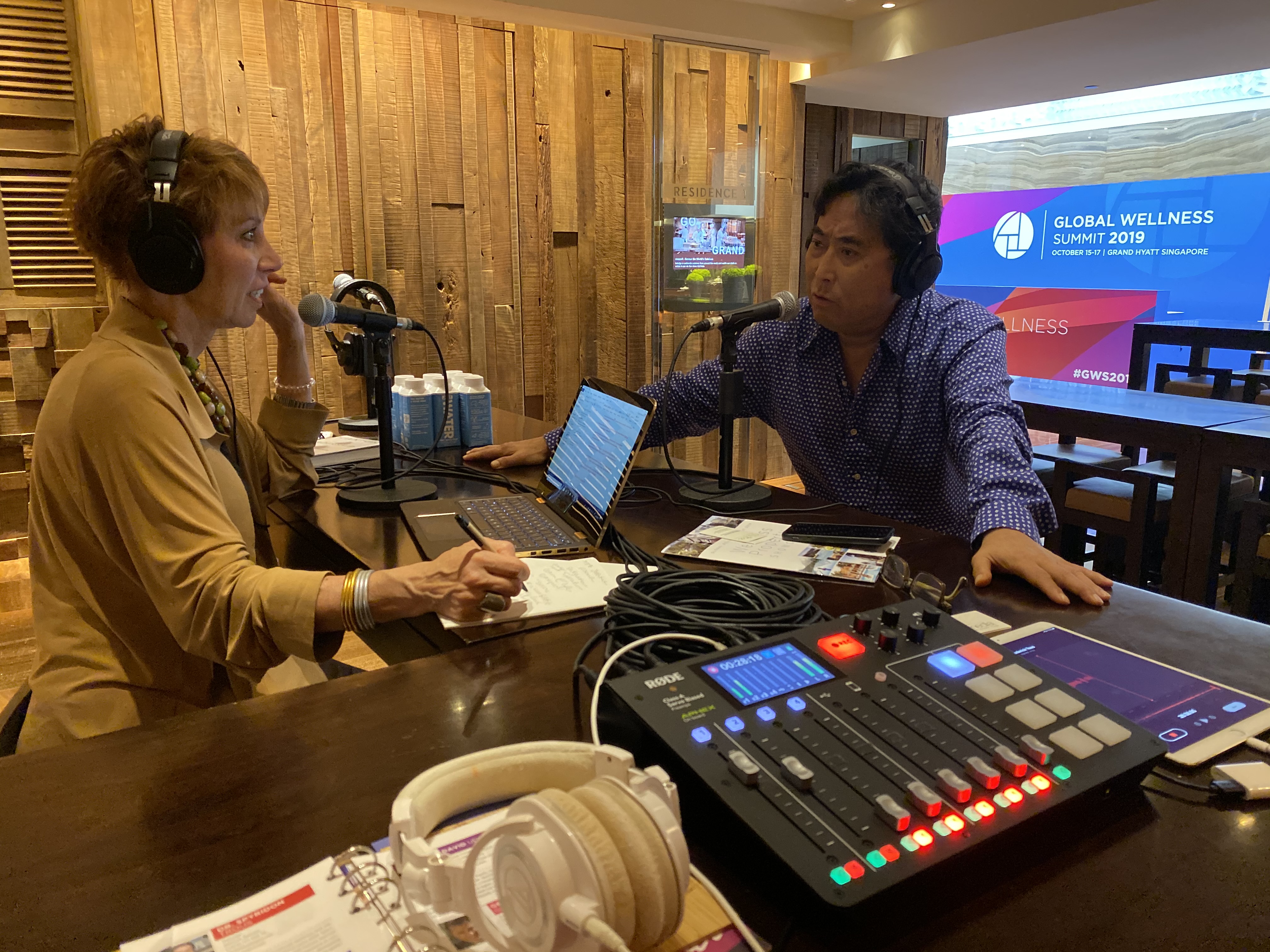 Miami, FL – November 12, 2019 – The Global Wellness Summit (GWS), the foremost gathering of international leaders in the $4.5 trillion global wellness economy, today announced the launch of its first-ever podcast series, which was recorded live during the Summit's recent conference in Singapore. The new 30-minute GWS podcasts feature in-depth interviews with wellness luminaries who made the 2019 Summit one of the most memorable in its 13-year history.
Six episodes are currently available on a number of streaming platforms, including Apple iTunes, Spotify and Google. New episodes will be released weekly. Visit this link to stream the podcast on your preferred platform.
Produced by GWS in association with S'Well Public Relations and Crate Media and hosted by Kim Marshall who brings over two decades of experience in shining a light on wellness stories and trends around the world, the 21-episode series is sponsored by Carillon Miami Wellness Resort, an innovative destination and resort spa hybrid that offers next-generation mind and body wellness programs.
The podcast features interviews of wellness disrupters and pioneers, including Viome CEO Naveen Jain, who has made personalized nutrition his clarion call; Neil Jacobs, CEO of Six Senses, one of the world's most inventive and thoughtful wellness hotel brands; Fred Tsao, international business leader and founder of OCTAVE Institute; and theologian, author and environmentalist Martin Palmer, who spoke about his work on the intersection of faith and climate change.
For episode one, Susie Ellis, GWS chairman and CEO, is interviewed just as the Summit is about to kick off. Ellis not only shares the origin stories of both the Global Wellness Summit and the Global Wellness Institute—and takes a look at how both organizations have played central roles in transforming the entire health and wellness industry—but she also remembers some of her favorite GWS moments over the course of the 13-year event.
Fittingly, given the many and varied time zones that GWS's international delegates navigated to reach the Summit in Singapore, episode two is an in-depth interview with Mickey Beyer-Clauson, a self-proclaimed jet lag disruptor and creator of the Timeshifter jet lag app. Mickey explores how the wellness and hospitality industries can use circadian neuroscience to help travelers truly manage jet lag.
The podcast series kicks off with a trailer featuring GWS Chief Creative Officer and Executive Director Nancy Davis, who shares how each year's agenda takes shape and what to expect in future podcasts with wellness thought leaders and pioneers in the numerous sectors that make up the wellness economy, including hospitality, architecture, fashion, fitness, mental wellness, healthcare and more.
Simply search 'Global Wellness Summit' everywhere you get your podcasts to listen to the show or visit this link to quickly subscribe on your platform of choice.
About the Global Wellness Summit: The Global Wellness Summit is an invitation-only international gathering that brings together leaders and visionaries to positively shape the future of the $4.5 trillion global wellness economy. Held in a different location each year, Summits have taken place in the US, Switzerland, Turkey, Bali, India, Morocco, Mexico, Austria, Italy and Singapore. The 14th annual Summit will take place in Tel Aviv from November 10–13, 2020.