Media Contact: Beth McGroarty
[email protected] • +1.213.300.0107
---
Global Wellness Summit  |  Global Wellness Institute   |  Press Image Gallery  |  Press Release Archive 
---
Two Women Who Built Today's Modern Wellness Movement Compare Notes, Show the Incredible Power of Female Mentoring
Deborah Szekely, godmother of the mind/body/spirit movement, and Susie Ellis, godmother of the business of wellness, celebrate their decades-long bond in special Global Wellness Summit podcast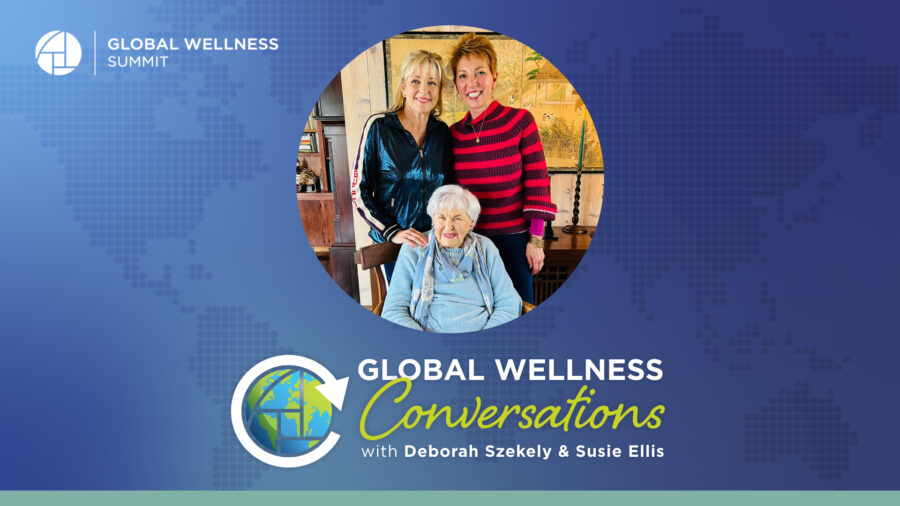 Miami, FL – May 9, 2023 – In celebration of Deborah Szekely's 101st birthday this month (May 3rd), the Global Wellness Summit is releasing a very special episode (#71) of its Global Wellness Conversations podcast entitled "A Mentor, Two Mavens & the Birth of a Movement," which is streaming live on all podcast platforms starting Wednesday, May 10.
The podcast features Szekely, a wellness visionary decades before anyone even began using the term, who is co-founder of Rancho La Puerta and founder of Golden Door, in conversation with Susie Ellis, her mentee, and a leading voice in wellness as chair and CEO of the Global Wellness Summit and the nonprofit Global Wellness Institute. The two industry veterans discuss their decades-long experiences in the wellness trenches, while Szekely shares insights and philosophies on longevity – one of today's hottest topics.
Szekely "walks the wellness walk" and, at 101 years young, is the embodiment of the lifestyle of proactive wellness that she has long promoted. "I didn't expect to live to 100 – it just happened," says Szekely. "There's not going to be a breakthrough that brings you eternal life. It's all very simple. It's about doing what you know is right."
"I think Deborah is the best advertisement for the philosophy of the Golden Door and Rancho La Puerta – heathy eating, movement, taking care of your mental health, stress reduction, and the importance of healthy relationships," said Ellis.
The podcast not only sheds light on the wellness practices that have helped shaped Szekely's long and healthy life, but also her successful leadership that enabled her to build a business that continues to thrive, grow and evolve 80 years later.
Ellis began working with Szekely in the 1970s, when she was hired to work at the Golden Door, her first job in the spa and wellness industry. After working at the Golden Door for decades, she went on to obtain an MBA at UCLA and to help launch a number of high-profile spas. This experience led her to the realization that the wellness industry would never be taken seriously without a more evidence-based approach and some serious economic research figures to measure its many sectors. Today, she heads up the leading global research and advocacy organizations for the $4.4T global wellness economy.
Also discussed on the podcast:
Some of the early wellness, fitness and spa practices that were born at Ranch La Puerta
Notable visitors to Rancho La Puerta and why The Golden Door was created as a "sister" destination spa
How these two female leaders achieved success in a male-dominated business world
The "why" behind Rancho La Puerta's entry into wellness real estate
The ways Szekely's workplace wellness strategies have impacted Ellis' own leadership
While being interviewed by Kim Marshall, host of the Summit's Global Wellness Conversations Podcast, it became clear that these two powerful women each had a vision and stuck to it.
The episode, which is sponsored by KOHLER, a legendary brand celebrating 150 years of delivering wellness through water, will be available to the public May 10th, but an earlier video cut available is here. Images to accompany the story are here.
About the Global Wellness Summit: The Global Wellness Summit is an organization that brings together leaders and visionaries to positively shape the future of the $4.4 trillion global wellness economy. In addition to an annual conference, held at a different location around the globe, GWS also hosts regular virtual gatherings, including Wellness Master Classes and collaborative Wellness Sector Spotlights. Each year, it holds an in-person Wellness Real Estate & Communities Symposium. The organization's annual Global Wellness Trends Report offers expert-based predictions on the future of wellness that are oft-quoted in the media. The 17th annual GWS will be held in Qatar from November 6-9, 2023.