Media Contact: Beth McGroarty
[email protected] • +1.213.300.0107
Leaders and Emerging Entrepreneurs in Wellness Honored at 2018 Global Wellness Summit
12th-annual conference celebrates winners of the prestigious Global Wellness Awards and winners of the Shark Tank of Wellness competition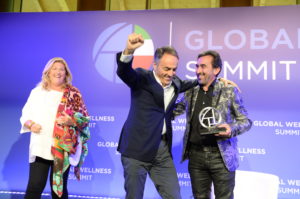 Miami, FL – October 16, 2018 – The Global Wellness Summit (GWS), the foremost gathering of international leaders in the $4.2 trillion global wellness economy, celebrated recipients of its 5th annual Global Wellness Awards and the winners of its Shark Tank of Wellness student competition. More than 630 invitation-only delegates hailing from 50 countries attended this year's sold-out Summit at Technogym Village in Cesena, Italy.
The 2018 Global Wellness Award recipients, determined by the GWS Advisory Board, were announced on the final day of the Summit, as follows:
Leader in Innovation
Nerio Alessandri, founder and president of Technogym, for his vision and courage to use the word wellness to define his leading technology and fitness company in the early '90s before the term became part of the daily lexicon.
Leader in Sustainability
Clodagh, head of New York-based interior design firm Clodagh Design, for being a vanguard of wellness design, as evidenced by her pioneering use of approaches like feng shui, biophilia, chromatherapy, wabi sabi and aromatherapy, as well as her passionate belief that good design supports wellbeing and can transform people's lives.
Leading Woman in Wellness
Sheila McCann, general manager of Lanserhof UK and prior GM of Chiva-Som, for being a key figure in the global spa industry who has evangelized the transformative effects of authentic, immersive experiences offered by destination spas, integrated wellness resorts and wellness retreats.
Leader in Workplace Wellness
Denise Bober, vice president of human resources at The Breakers Palm Beach, for remaking the culture of a renowned destination property into a shining example of workplace wellness and proving that a "return on wellness" is a real measurement of success.
Leader in Social Impact
Rupert Schmid and Pierre-Louis Delapalme, co-presidents, Biologique Recherche, for working to make it possible for more people and societal groups to live healthier, happier lives–and whose work in the field of wellness has made a meaningful social impact.  Schmid and Delapalme partner with Wellness for Cancer to adapt facial and body treatments to meet the needs of cancer patients and those in remission.

Debra Simon Award for Leader in Furthering Mental Wellness
John Stewart, one of the founding partners and key visionaries behind the pioneering wellness resort, Kamalaya Koh Samui, for creating projects that make a measurable difference in people's lives. Stewart proves that happiness comes from giving and has created a unique destination that nurtures guests by combining ancient wisdom with the latest innovations in alternative and modern healthcare, offering healing in the broadest sense, encompassing heart, mind, body and spirit.
Shark Tank of Wellness Award
Each year the Shark Tank of Wellness competition challenges university students around the world to create bold and viable new concepts in wellness (from technology to architecture to hospitality). Fifteen of over 150 submissions from 39 countries were presented to the Wellness Sharks who ultimately identified three finalists. The finalists, along with their professors, were flown to Italy to present their ideas in front of a panel of real-world wellness experts and the live audience – and compete for $10,000 in prize money.
First prize ($5,000) went to Maria Mu of Cornell University for her sleep technology concept, Bellumo, aimed at helping hundreds of millions of people worldwide that have trouble falling asleep at night. An alternative to potentially harmful medications, Bellumo is a glowing, hanging mobile that guides users through breathing exercises to help them fall into sleep. The form of the mobile was inspired by the bioluminescence of jellyfish and their elegant pulsating shapes, and the glowing and dimming of the soft LED lights guides users to inhale and exhale for set amounts of time, helping them relax deeply.
First runner-up ($2,500) was Ece Nur Temel from Istanbul Technical University for her concept Yoga Lounge, a personal yoga space (or pod) designed for use throughout airports. With over 560,000 flights delayed a month, Yoga Lounge provides a private yoga/meditation sanctuary in the extremely stressful airport environment. Each module is divided into two small areas: one where you place baggage and change your clothes, the other a circular area for doing yoga or meditation, with yoga essentials such as blocks, straps, etc. Yoga Lounge is also a chill-out option for libraries, universities, hospitals, etc.
Second runner-up ($2,500) was Niccolo Saltarelli from Les Roches Global Hospitality Education in Switzerland for his concept CampWell.  This innovative health and wellbeing-focused summer camp pairs young adults with experienced camp counselors from an older generation, for immersion in human connection and intergenerational bonding and physical and mental health education and experiences. Programming at CampWell is designed to attack the current epidemic of loneliness and unhappiness among young adults.
About the Global Wellness Summit: The Global Wellness Summit is an invitation-only international gathering that brings together leaders and visionaries to positively shape the future of the $4.2 trillion global wellness economy. Held in a different location each year, Summits have taken place in the U.S., Switzerland, Turkey, Bali, India, Morocco, Mexico, Austria and Italy. The 13th-annual Summit will be held at the Grand Hyatt Hong Kong from October 15-17, 2019.