Media Contact: Beth McGroarty
[email protected] • +1.213.300.0107
Mindy Grossman, President and CEO of Weight Watchers, to Share Company's Goal to Make Wellness Accessible to Everyone at 2018 Global Wellness Summit
Grossman is leading the transformation of 55-year-old Weight Watchers into a wellness lifestyle brand that inspires more than four million members to develop healthy habits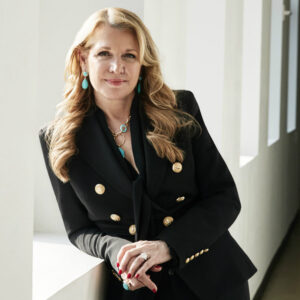 Miami, FL – July 16, 2018 – The Global Wellness Summit (GWS), the foremost gathering of leaders in the $3.7 trillion global wellness economy, today announced that Mindy Grossman, president & CEO of Weight Watchers International, Inc. (NYSE: WTW), will take to the stage during this year's Summit to share how the 55-year-old company has evolved and remained relevant to today's tech-savvy, wellness-focused consumer. The invitation-only conference takes place October 6-8, 2018 at Technogym Village in Cesena, Italy.
"Mindy has accomplished a huge amount in the short time she's been at Weight Watchers. Her laser focus on the mission to 'create a world where wellness is accessible to all' has transformed the entire organization and reaped huge rewards, including increased revenues and member engagement worldwide," said Susie Ellis, GWS chairman and CEO. "Being able to dialogue with the woman who has reshaped one of the biggest brands in the world by putting the pursuit of wellness first is an amazing opportunity for delegates to the Summit."
Weight Watchers continues to be the world's leading commercial weight management program and is evolving to become a global wellness company that inspires millions of people to adopt healthy habits for real life. The company has reported tremendous momentum with the highest number of members and longest member retention in the company's history.
"Though we all talk about wellness now more than ever before, the truth is the world isn't really getting any healthier–and we want to change that. Our goal is to be the leading brand in wellness by evolving based on the latest science and consumer insights and broadening our impact," said Grossman.
Recently, the Company launched its new program called WW Freestyle™, which produces better results with more flexibility than any previous WW program. In addition, community–whether online, at group meetings or even a one-to-one coaching session–continues to be a foundational element of the Weight Watchers program.
"Not every company can claim it deeply impacts the lives of millions. We can. For years, we've inspired people to come together for a journey of positive, lasting change. But our greatest potential lies ahead. The world doesn't need another diet. The world needs a leader in wellness. A brand that can bring wellness to everyone, not just the few," continued Grossman. "I look forward to the discussions we'll have during the Summit to provoke both thought and action to make this world happier and healthier."
Grossman, who led HSN, Inc. for 11 years prior to joining Weight Watchers, is well known for making brands newly relevant through positive disruption. She successfully took HSNi public in 2008 and is credited with transforming HSN into a lifestyle network offering an exciting array of products, personalities and experiences designed to engage, inform and entertain. In addition, Grossman served as Global Vice President of Nike, Inc. for six years and in her earlier career was President and CEO of Polo Jeans Company and Vice President of New Business Development at Polo Ralph Lauren Corporation. She is also Vice Chairman for UNICEF USA.
The Global Wellness Summit is the world's leading conference on the business of wellness and always a sold-out event. To apply to attend, click here.
About the Global Wellness Summit: The Global Wellness Summit is an invitation-only international gathering that brings together leaders and visionaries to positively shape the future of the $3.7 trillion global wellness economy. Held in a different location each year, Summits have taken place in the US, Switzerland, Turkey, Bali, India, Morocco, Mexico and Austria. The 12th-annual Summit will be held at Technogym Village, Cesena, Italy, from October 6–8, 2018.