Media Contact: Beth McGroarty
[email protected] • +1.213.300.0107
Andrea Illy, Chairman of illycaffè, to Keynote at 2018 Global Wellness Summit
Illy is chairman of the most globally distributed coffee brand in the world, a sustainable business pioneer and patron of the World Happiness Report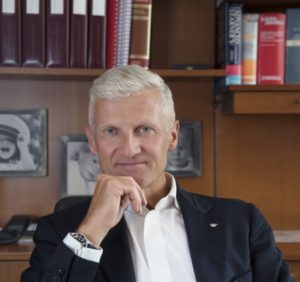 Miami, FL – May 29, 2018 – The Global Wellness Summit (GWS), the foremost gathering of leaders in the $3.7 trillion global wellness economy, today announced that Andrea Illy, chairman of the global coffee brand illycaffè, will keynote at the 12th annual conference taking place Oct. 6-8 at Technogym Village in Italy. A "humanist scientist," Illy has wide-ranging accomplishments as an entrepreneur and as an activist for sustainable and ethical businesses; for Italian culture, art and design; and for governments to put happiness at the heart of policy.
"It's an honor to have Andrea Illy keynote at the Summit," said Susie Ellis, GWS chairman and CEO. "As a businessman he's shown that you can create a brand powerhouse and true global culture based on your own values—around sustainability and ethics, and the importance of happiness, wellness, and arts and culture."
Ellis noted that by combining high quality standards with concepts of pleasure, health and sustainability, Illy has been a key force in transforming coffee from a mere commodity to a global cultural obsession and ritual.
A longtime promoter of art and culture, since 2013, Illy has served as chairman of Altagamma, which represents the most important brands in Italy's cultural and creative industries and is the official ambassador of the Italian lifestyle to the world. Passionate about creating happier, healthier people and nations, he is also a patron of—and Fondazione Ernesto Illy is the sole sponsor of—the influential World Happiness Report. He's won diverse global awards for business and sustainability leadership: from illycaffè being named one of the World's Most Ethical Companies by Ethisphere Institute for seven consecutive years to Illy being named Marketing Superstar by Advertising Age. The author of "Espresso Coffee: the Chemistry of Quality" and "Coffee: the Dream", Illy's new book, an economic and philosophical discussion of what could drive a new Italian Renaissance, will be released in October.
"I look forward to addressing the world's wellness leaders in Italy this October," said Illy. "There is much I want to share with delegates: from what conscious leadership can do for companies to how happiness will be a much more powerful future focus for both governments and brands. I also look forward to discussing the importance of art and culture in any true concept of wellbeing and what's unique about the Italian lifestyle—and how important it will be to Italy's future."
More about illycaffè
Andrea Illy's grandfather founded illycaffè in 1933 when he developed the first modern espresso machine. A family-owned business for three generations, its products are now sold in over 100,000 outlets in 140 countries. The company has pioneered important innovations in the coffee industry and culture, such as the direct procurement of green coffee from farmers; the University of Coffee, to promote the science of coffee excellence at all levels; and the sustainability certification of the entire production chain. In 2011, illycaffè became the world's first company to earn the Responsible Supply Chain Process certification from industrial standards arbiter DNV GL.
More about Andrea Illy
A scientist by training, Illy received his degree in Chemistry from the University of Trieste, his Executive MBA from Milan's SDA-Bocconi, and has earned degrees from the Advanced Management Program at Harvard Business School and the Executive Program at Silicon Valley's Singularity University. He holds numerous high-profile positions including honorary president of the Association for Science and Information on Coffee (ASIC).
The Global Wellness Summit is the world's largest conference on the business of wellness and always a sold-out event. To apply to attend, click here.
About the Global Wellness Summit: The Global Wellness Summit (GWS) is an invitation-only international gathering that brings together leaders and visionaries to positively shape the future of the $3.7 trillion global wellness economy. Held in a different location each year, Summits have taken place in the U.S., Switzerland, Turkey, Bali, India, Morocco, Mexico and Austria. The 12th annual Summit will be held at Technogym Village, Cesena, Italy from October 6-8, 2018.