Media Contact: Beth McGroarty
[email protected] • +1.213.300.0107
Clodagh, Pioneering Wellness Designer, Brings Unique Insight on Authentic Design to 12th-Annual Global Wellness Summit
Multi-disciplinary designer, whose recent projects include the award-winning Six Senses Douro Valley and recently reopened Six Senses Kaplankaya, to share her vision for truly integrated wellness design with Summit delegates in Italy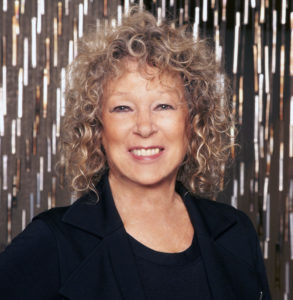 Miami, FL–May 8, 2018–The Global Wellness Summit (GWS), the foremost gathering of international leaders in the $3.7 trillion global wellness economy, today announced that Clodagh, head of New York-based interior design firm Clodagh Design, will take the stage at the 2018 conference to share her belief that wellness is a crucial requirement in design that makes a positive impact on our collective health and happiness. In a keynote entitled "Wellness By Design…from the Cradle to the Departure Lounge," Clodagh will explore the importance of creating environments that put human wellness front and center.
"Clodagh infuses everything she does with wellness–not only the breathtaking environments she creates – but every aspect of her life is approached through the lens of imagining how she can create physical and emotional joy," said Susie Ellis, Chairman and CEO of the Global Wellness Summit. "As new movements like wellness architecture take hold, I've often found myself thinking that the design world is finally catching up with Clodagh's original vision, and yet she continues to raise the bar with her one-of-a-kind spaces."
Clodagh is considered a vanguard of wellness design, as evidenced by her keen interest in–and use of–approaches like feng shui, biophilia (the healing power of nature), chromatherapy, wabi sabi and aromatherapy. Long before it was a global trend, Clodagh was advocating for sustainable and eco-conscious design principles, using natural materials to enrich projects with warmth and beauty.
"Design is emotional, and great design is an experience. We make the invisible visible," explains Clodagh, whose third book "Life-Enhancing Design" focuses on the value of—and need for–designs that appeal to every sense.
"Clodagh transforms spaces, not just visually, but also their very energy, incorporating spiritual, emotional and wellness aspects into every space," said Anna Bjurstam, Wellness Pioneer, Six Senses. "Clodagh's designs played a key role in the success of Six Senses Douro Valley and she has once again performed her trademark magic on the Six Senses Kaplankaya in Bodrum, Turkey."
"Wellness is a holistic pursuit and the spaces where we dwell, work, eat and shop all contribute to creating a lifetime of overall wellbeing," said Clodagh. "My goal is to have everyone walk away from one of our projects with a huge smile on their faces. I want to make people feel good by creating spaces that imbue both visual and emotional hugs."
Clodagh's groundbreaking work has garnered numerous accolades and awards, including induction into the Interior Design Hall of Fame and Hospitality Design Platinum Circle, and being named among the Top 100 Designers in the World by Architectural Digest. The Robb Report also included her in their Top 10 Interior Designers in the World, and Traditional Home magazine calls her one of the Top Twenty Design Icons. In addition, she is known for her extensive philanthropic work and is a recipient of the Manny Steinfeld Humanitarian Award.
The 12th-annual Summit will focus on the current business landscape and future trends for the ten diverse segments that make up the nearly $4 trillion global wellness economy, including the $134 billion[1] wellness lifestyle real estate sector.
The Summit is the world's largest conference on the business of wellness. Ellis noted that first-time delegates can apply to attend but should do so soon because it's always a sold-out event.
For images, click here.
About the Global Wellness Summit: The Global Wellness Summit (GWS) is an invitation-only international gathering that brings together leaders and visionaries to positively shape the future of the $3.7 trillion global wellness economy. Held in a different location each year, Summits have taken place in the U.S., Switzerland, Turkey, Bali, India, Morocco, Mexico and Austria. The 12th-annual Summit will be held at Technogym Village, Cesena, Italy from October 6-8, 2018.
[1] The Global Wellness Institute's "Build Well to Live Well" Report, January 2018