Media Contact: Beth McGroarty
[email protected] • +1.213.300.0107
Renowned International Hoteliers Sir Rocco Forte and Irene Forte to Co-present on Intergenerational Collaboration at Global Wellness Summit
Father and daughter team will share company's wellness tourism innovations and the advantages that new generations of leadership bring to their award-winning properties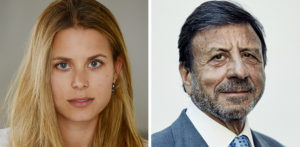 Miami, FL – September 5, 2018 – The Global Wellness Summit (GWS), the foremost gathering of international leaders in the $3.7 trillion global wellness economy, today announced that international hotelier Sir Rocco Forte and his daughter, Irene Forte, will share insights into how intergenerational collaboration has helped the award-winning hospitality company embrace generations of guests, including the coveted millennials. The Forte's highly anticipated keynote will take place at the 12th-annual Summit at Technogym Village, Cesena, Italy, October 6-8.
Rocco Forte Hotels, led by Sir Rocco Forte, his sister Olga Polizzi and his children Lydia, Irene and Charles, are a leading example of the power of legacy in the wellness industry–and how the next generation can have a significant impact on a long-standing family business.
"The success of Rocco Forte Hotels demonstrates how forward-thinking, intergenerational management is shaping the business of wellness for millennials and generation Z," said GWS Chairman and CEO Susie Ellis. "They are a perfect example of reverse mentoring, where wisdom and experience are taught from the top down and technology and insight into new trends are taught from the bottom up."
Deloitte's 2017 NextGen Survey[1] underscores the importance of next generation leaders, "… who are more aware of the meaning and effect of disruption than the previous generation." According to the survey, family-owned businesses also have an advantage in times of disruption because they are agile, compared to other organizations.
"All of my children play key roles in developing the roadmap for Rocco Forte Hotels," said Sir Rocco Forte. "Irene's love of wellness and travel combined with her deep insight into millennials' preferences has helped us really stand apart from other luxury hotel brands when it comes to developing our wellness portfolio."
"For millennials, wellness is a daily, active pursuit, and this generation will soon surpass baby boomers in overall travel spending," said Group Project & Spa Director Irene Forte. "When developing our wellness concept, we thought about what millennials look for when choosing a hotel. With this in mind, we want our guests to find wellness at every touch point when staying with us—whether it is in the spa, restaurant or even in the room."
Other family-owned companies will share secrets of their intergenerational business successes during the 2018 GWS, including Technogym's Founder and CEO Nerio Alessandri and his two children, Erica, a non-exec member of the board, and Edoardo who, while completing his studies in Business Administration at the Hult International Business School, has spent his summer working in the company's digital marketing team.
According to a 2017 report[2] from the Credit Suisse Research Institute (CSRI), family-owned businesses outperform their peers in every region and sector. The report also notes that these businesses focus on long-term growth and the financial performance of family-owned companies is superior to that of non-family-owned businesses.
Sir Rocco Forte is a British hotelier, philanthropist and chairman of Rocco Forte hotels. Founded in 1996, the company operates 11 luxury hotels in key European destinations, including one in Saudi Arabia. Sir Rocco was knighted in December 1994 for services to the UK tourism industry and received the highest Italian accolade, the Gran Croce dell'Ordine al Merito della Repubblica Italiana in 2005.
Irene Forte is the group project director at Rocco Forte Hotels. She oversees wellness offerings across the group and has launched her own skin-care line: Irene Forte Skincare. In addition, she leads learning and development projects. In 2015, Forte was awarded government funding to create the Map My Future app to attract and retain a younger more technologically savvy workforce. The app has been available in the hotels since 2016.
The Global Wellness Summit, the world's leading conference on the business of wellness, is always a sold-out event. To apply to attend, click here.
About the Global Wellness Summit: The Global Wellness Summit is an invitation-only international gathering that brings together leaders and visionaries to positively shape the future of the $3.7 trillion global wellness economy. Held in a different location each year, Summits have taken place in the U.S., Switzerland, Turkey, Bali, India, Morocco, Mexico and Austria. The 12th-annual Summit will be held at Technogym Village, Cesena, Italy from October 6-8, 2018.
[1] https://www2.deloitte.com/lu/en/pages/strategy/articles/sucessors-family-owned-businesses-prepare-new-entrants.html
[2] https://www.credit-suisse.com/corporate/en/articles/media-releases/family-owned-businesses–comfortably-outperforming-their-peers-i-201709.html