A New Era of Transformative Wellness Travel
Circuits, sagas and epic storylines
Wellness is, by nature, a journey; a multi-chapter story; a lifelong physical, mental and spiritual seeking; a personal and emotional quest. So it's odd that, even at the most fantastic wellness and spa destinations so many of the classes, treatments and experiences get served up piecemeal and disconnected: You enjoy that massage or meditation class and wonder, what now? Go back to the room or the pool? You've not been immersed in a true wellness "story" or journey…so you can get disengaged, even worse, bored.
Signs of change are underway, with a trend emerging. More wellness destinations are creating new concepts that cast the traveler-pilgrim in an immersive story or defining narrative: A multi-chapter wellness journey…an emotional, even theatrical, saga of transformation…a true circuit or "necklace" of linked experiences rather than the disconnected "beads" of traditional programming, amenities and itineraries. And it's taking cool new forms.
If the wellness resort experience has always been confined to a single property, in 2018 we will see the first multi-property – and story-based – wellness circuit with the launch of Six Senses Bhutan. And more circuit- and story-based concepts are coming from the brand in years ahead. New wellness destinations are casting guests as the heroine/hero of story-based wellness quests: Take Iceland's The Red Mountain Resort concept – spa experience as pure saga and fantasy – where you experience the emotional and sensory voyage of an ancient Icelandic hero. And if busting spa treatments and fitness out of property walls into the great outdoors has been a massive trend, now spa/wellness experiences are even being reimagined as full-day circuits or safaris. Think: Trek through nature at sunrise, visit village artisans, meditate in a treehouse, and then move to ocean cliffs for hours of treatments. Spas have long adopted the language of the "journey" but with little actual journeying; now concepts are appearing befitting the term.
The specific ways that wellness destinations are starting to use the power of circuits, storylines, sagas and safaris tell the tale of this trend more than any abstract theorizing. But one clear future for wellness travel is experiences that wrap people up in a dramatic story or sense of theater, that can incite (using the powerful mechanisms of narrative and fantasy) that elusive, perspective-changing interior journey. In a few words, there are signs that a new era of transformative wellness travel is being invented.
And how to create more immersive wellness experiences that reach beyond "copy-and-paste" programming was the hot topic at the Global Wellness Summit's roundtable: "The Next Frontier in Spas, Hospitality and Travel."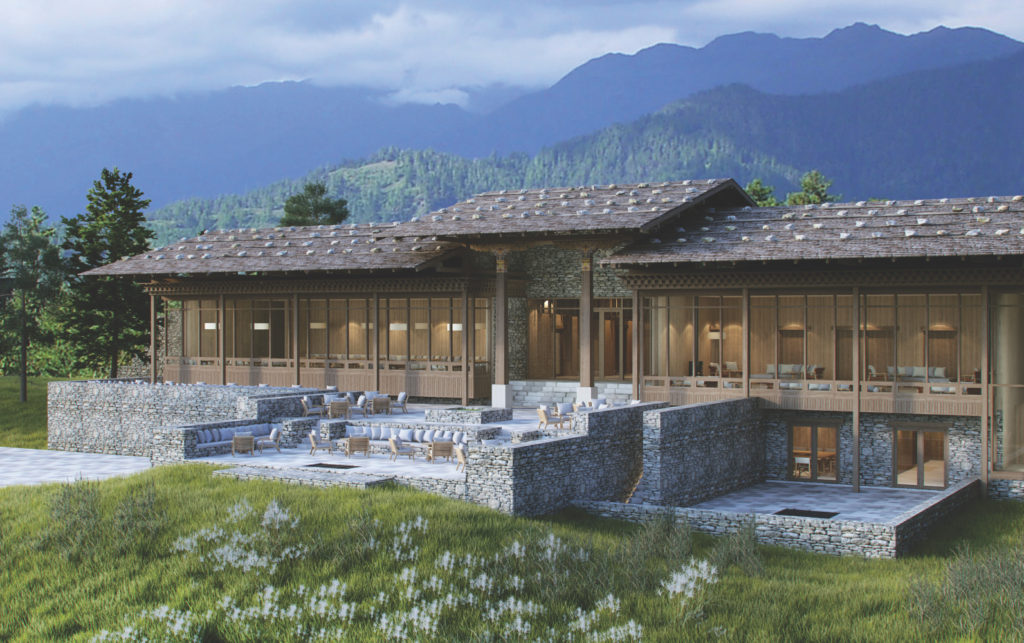 Fueling the Trend
Wider Shift from Experiential to Transformative Travel
We've been living in a great age of "authentic" and "experiential" travel where even the most mainstream hotel brands aim to help travelers eat, live and spa like a local. Travel experts now argue that "transformational travel" is the evolutionary wave, which doesn't discard the focus on authentic experiences, but takes it to a deeper emotional level. Pure Life Experiences (one of the platforms, like Transformational Travel Collaborative, that has emerged to advocate for this new category) defines it as "travel products that challenge and inspire the sophisticated traveler on a deeply personal level, creating emotion through the powerful medium of storytelling…"
It's essentially an individual's self-reflective journey vs. the cold facts of an itinerary. An intensive dialogue with cultures and nature (with adventure, challenge, and even fear, operant) that changes you for the better, rather than merely "consuming" the natives' authentic products. Less Instagram-able brag-fest than exclusive soul experience.
Transformative journeys and story-steeped experiences are reaching wildly creative levels everywhere from the wider luxury travel world to restaurants to retail. Consider the uber-extravagant, London-based transformative travel company Based on a True Story (BOATS) that wings travelers to far-flung destinations for theatrical adventures. Whether dancing under the stars on an uncharted island with tribes people or following Cyclops across an ancient Greek landscape to duel mythical creatures or having a mermaid appear from under the sea with a magical box that takes you on a surprising island journey. (Costumed actors and elaborate staging are often key.)
Immersive role-playing and narrative-driven adventure is hitting mainstream travel: Disney's Star Wars-themed, spaceship-like hotel coming to Orlando in 2019 will give every guest a storyline and costume at check-in – and you take part in missions and learn to drive a spacecraft with other Star Wars characters.
More restaurants are creating feast-theater, with multi-course meals set in extraordinary environments, and with waiter-actors and multi-sensory storylines. London's Ginger Line has guests forage for their dinner in a magic forest and board an aircraft for dessert; The Vaults (London) serves up many-chaptered feasts with eccentric performances. Retail brands are staging "product theater," like Glossier (NYC), which introduces its fragrance through an "olfactory journey" through the five senses inspired by "theatre, performance art and magic shows." The one-upmanship in transformative travel experiences is being seriously upped, and wellness hospitality brands and destinations (whose very promise is transformation) are (smartly) starting to use new story-based and/or journey concepts to reenergize and reframe the health and wellness quest.
---
Examples Best Capture the Thrust of This Trend
First Epic Circuit from a Wellness Travel Brand: Six Senses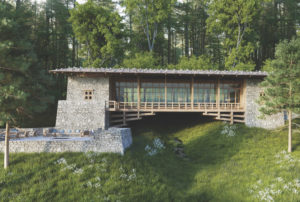 Wellness travel is increasingly dominated by curated, customized small group tours over fixed destinations. Hundreds (and hundreds) of journey-based wellness trips aiming to spark personal transformation through collisions with new cultures, wellness approaches, and nature happen every year. Whether Shakti Kumaon's jaw-dropping, mind-opening walking tours through the Himalayas with everything from stays in ancient village houses to organic meals and yoga set in pine forests to Puakai Healing's spiritual journeys through Peru's Sacred Valley with pilgrimages to ancient Incan sites, amazing yoga and fire ceremonies.
But 2018 will see a bold first for a hospitality brand with a focus on wellness: The first multi-lodge wellness circuit with the launch of Six Senses Bhutan. Guests will journey across five lodges, and at each destination all the experiences (from design to food to spa/wellness experiences) will be based on a powerful multi-chapter story: Five key pillars of Bhutan's unique "Gross National Happiness Index." Bhutan, that ancient Himalayan kingdom of unspoiled nature, culture and spirituality is actually more forward thinking than the rest of us, with national policy based on formal principles of happiness for its citizens rather than gross domestic product. Six Senses Bhutan guests will take an "amazing journey" across dramatically diverse topographies, climate zones and cultural areas as they move across these five intimate inns (82 rooms total) – from Paro to Thimphu to Punakha to Gangtey to Bumthang. And if we used the metaphor of a "necklace" of wellness experiences (rather than disconnected beads) above to describe this new direction in wellness travel, Six Senses Bhutan will actually deploy bracelets. Each guest will mark their physical, mental and spiritual journey by adding charms to a bracelet given at the start of their quest – and when they arrive at each destination they will receive a card where they set their intentions for that specific aspect of happiness.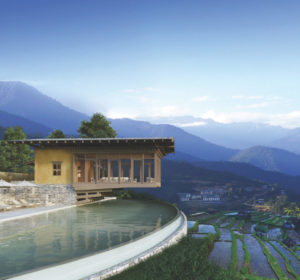 The journey begins in Paro (near the cliffside Tiger's Nest) where guests are immersed in the "happiness pillar" of education and community, experiencing everything from retreat caves to Bhutanese folklore to sound healing. Moving to Thimphu (the capital) they dive into physical health, going deep into Six Senses' rich health/wellness offerings. At Punakha, the rice farming region, it's all about time and sleep: from sleep education to all-sleep-focused spa (foot, cranial and hand) treatments. At Gangtey/Phorjikha, a rural time warp, it's immersion in mental well-being: from meditation to the Ayurvedic practice of Swedana (herbs, herbs, herbs). At Bumthang, with its extraordinary ancient monasteries, the focus is on culture: from painting to archery to a spa alchemy bar where guests concoct their own treatments.
So many brilliant aspects: An entirely unique, narrative-based wellness pilgrimage immersing travelers – chapter by chapter – in Bhutanese values and culture…A "shepherding" model that allows a wellness travel company to bring people to strange-to-them locations with peace of mind (and no one wants to see the inside of one luxury resort's walls in an exotic new nation)…It keeps the traveler in the brand as they journey…And with all transport cared for and no baggage lugging, it's a stress-free trip.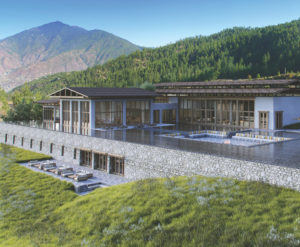 Anna Bjurstam, VP of Spas & Wellness at Six Senses and Global Wellness Summit Board Member, informs us that at least three circuit-based properties are now in development for Six Senses (two cannot yet be named.) But one is headed to Morocco where they're renovating ancient kasbahs (Moroccan forts) and where at each kasbah-inn guests will be completely immersed in a crucial aspect of Moroccan culture: from Bedouin history to the Hammam ritual.
"We know people want far more immersive journeys and experiences, particularly wellness travelers: those transformative epiphanies that come from stepping into a story larger than themselves," said Bjurstam. "While Six Senses is heading in several new directions (like our concentration on urban wellness retreats in NYC, etc.), a focus on multi-property wellness circuits will be a much bigger priority for us going forward."
Recently named "top hotel brand in the world" by Travel & Leisure, Six Senses is always ahead of the "now" when it comes to wellness travel.
You're the Hero of a Wellness Saga
More wellness/spa destinations will (and should) inject more theater and fantasy into wellness experiences to create epic-level sagas that can fire up emotion (the only path to transformation). The Red Mountain Resort (featured image above, photo credit: Ikonoform) under development north of Reykjavik, Iceland is a stunning example. The proposed resort, with its dramatic, nature-intermingling architecture rising out of the wild, craggy volcanic landscape, signals immediately that you've entered an otherworldly and mystical place.
The centerpiece is an enormous spa, which takes the Icelandic medieval saga of Bárður Snæfellsás as its muse. The half-man/half-troll Bárður renounced the world of humans in favor of solitude and peace inside a glacier, and the multi-sensory spa journey casts guests as the protagonist in his heroic voyage. They travel through five intense emotional states: contemplation, exposure, confrontation, clarity and enlightenment, each one expressed through a dramatic shift in Icelandic nature, replete with wind tunnels, fire baths, rain curtains, ice pools and pitch black slides. In the original saga, every time Bárður experiences an emotional change fog appears – just as it will when one enters a new "emotional zone" in the spa.
The world of gaming or Games of Thrones is palpable here, but it's poetically, glamorously minimalist. This is not an orthodox nod to cultural or wellness "authenticity" but is, as architect Johannes Torpe put it: "A world that stimulates your senses in ways everyday life doesn't have the capacity to do…in a slightly exaggerated way." Fear, surprise and challenge are in play, not the usual "comfort zones" of spa. And the goal of this saga-based wellness quest is transformation through an imaginative journey (so it's no surprise they plan a creative center for artists in residence).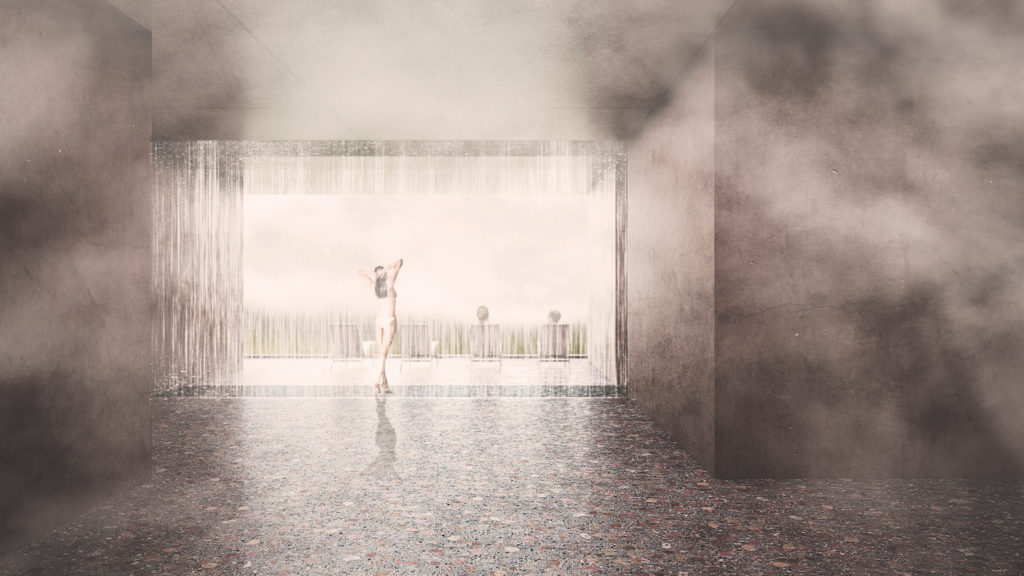 50-Minute Treatment? – No, a Wandering Spa Safari
If they've had access to nature, wellness resorts have been breaking fitness out of the gym and treatments out of the spa walls for years. There are countless examples, like moon-bath massages under the stars or floating on water at Spa Village Resort Tembok in Bali. And now the spa experience is being rethought as an even more immersive all-day circuit or "safari." At Nihi on Sumba Island, Indonesia (the luxury-adventure-surfing-philanthropic resort vision of fashion billionaire Chris Burch voted the world's best hotel by Travel & Leisure readers), their NihiOka Spa Safari serves up a true wellness journey.
A small group sets off in early morning for a 90-minute hike across jungles and rice paddies, stopping at a traditional village to meet locals and explore their arts and crafts. A healthy breakfast (and later lunch) is then served in open-air bales hanging over the ocean. Guests are then taken to their private cliffside room where they can intersperse swims at the private beach and pool with unlimited spa therapies – whether long massages, scrubs, reflexology or facials…at their pace until they are sated. At sunset you head back to the resort in open-air vehicles. This unlimited approach to spa treatments doesn't have you tick-tick-ticking down the minutes and cost of treatments – always a real happiness killer. And the day rate for the full safari, around $345 per person, isn't much more than a long massage at a fancy hotel.
The demand has been so strong that Nihi just added an overnight spa safari. And while not strictly a "story-driven" journey, we predict more wellness resorts will reimagine their spa experience as an active (not passive) adventure across nature with more unexpected experiences: mixing up fitness, connection with nature, local cultural immersion, and healthy food…with treatments, to create a more immersive necklace (or circuit) of experiences.  Again, not those scattered beads of "treatments" and "classes."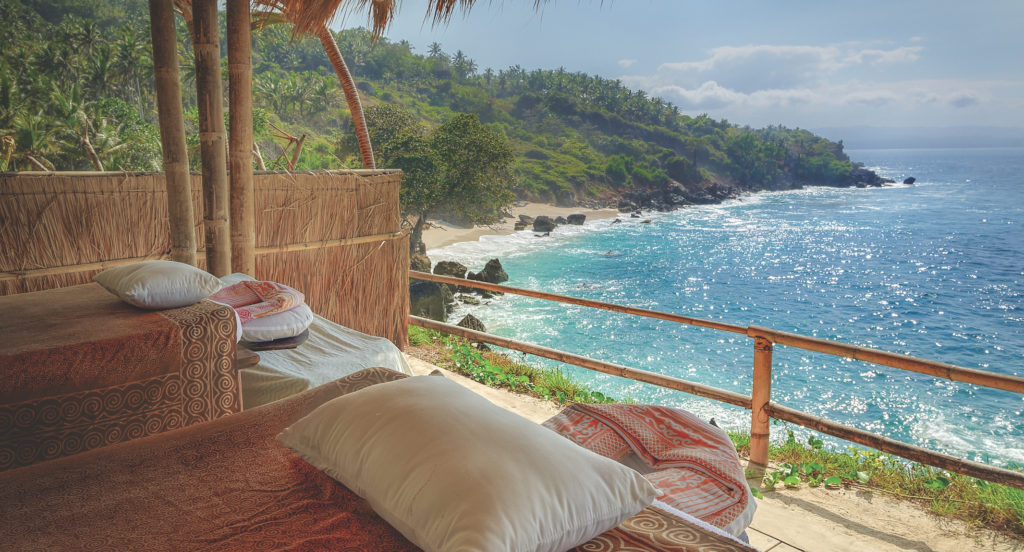 "Story" Immersion: More Theater, Performance, Music & Art Mixed with Wellness
If transformative travel "creates emotion through the powerful medium of storytelling," a clear trend in wellness travel is more "storytelling" getting blended with wellness experiences.  In other words, not only does it include more performance, music, art and literature getting served up at wellness destinations, but now the "wellness" and the art/performance are happening together – like soaking in hot springs while taking in a play or meditating in the galleries of art museums. Last year we named "more arts and creativity at wellness destinations" a top trend, but trends don't have an annual expiration date, and this one only gets more forceful and creative.
At the just-opened Amanyangyun near Shanghai (an incredible conservation project that relocated/restored an entire ancient Chinese village and forest) the resort's vision is equal parts arts/culture and wellness. It's centerpiece is a cultural pavilion recreating the 17th-century "scholars' studios" of China: a place to learn, contemplate and practice traditional arts like calligraphy and painting – or watch one of their frequent Kunqu Opera performances. At their Cultural Discovery Centre for children, kids spend their days experiencing Chinese shadow puppet shows and tea ceremonies and making Chinese lanterns and pottery – with yoga and spa treatments on offer.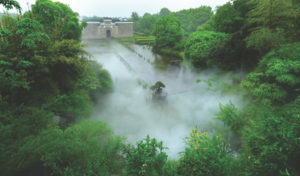 The new twist: arts/culture and wellness being taken together. The dramatic expansion underway at Australia's famed Peninsula Hot Springs will rewrite what it means to be simultaneously "immersed" in performance and spa. The destination will revolve around an arts and culture area featuring a large amphitheater where hundreds of people can watch plays, concerts and talks – while seven pools with underwater speakers (the Amphitheatre Bathing Bowl) will let people float in the hot springs while experiencing the music and performances. Founder Charles Davidson notes, "Many of our experiences are story-driven…places where guests can be engaged in the experience…the Amphitheatre Bathing Bowl (is a) unique, open-air space for arts, culture, relaxation, health and wellbeing." And at the vast, architecturally stunning Lofoten Opera Hotel now being built in Norway, a huge amphitheater will also be combined with seawater bathing and spa-ing.
To flip the art and wellness equation, The New York Times recently reported on how museums are busy incorporating wellness by offering experiences like yoga and meditation that reflect and deepen the experience of their collections. Whether the Metropolitan Museum of Art recently holding (sold-out) workouts taught by professional dancers that explored two miles of art across the museum or the arts-of-the-Himalayas-focused Rubin Museum (NYC) that lets people practice mindful meditation while contemplating art objects or Global Wellness Summit keynote speaker Agapi Stassinopoulos leading guided meditation at MOMA on their "quiet mornings."
---
The Future
This trend focuses on new story-driven, multi-property wellness circuits – new experiences that cast people as the fearless protagonist in a dramatic wellness quest – and the expansion of the spa experience into a long, nature-roaming journey- All with the goal of creating more transformative experiences at wellness destinations. But there is certainly a much wider world of immersive wellness travel programming now happening beyond these concepts, and some covered elsewhere in our trends reports. We have destinations that get people training as fiercely as an Olympic athlete or offering the intense mind-over-matter, ice braving Wim Hof method (See: "Extreme Wellness" trend). We have magic mushroom retreats letting people experiment with some brain transformation. Or those that let people partake in one of last year's trends, Sauna Aufguss, which reimagines sauna-going as pure theater, with musical and theatrical performances.
There is no way to engineer a universally "transformative" wellness travel experience: transformation is both elusive and personal. But if wellness over the last decades has become too egocentric – too often a narrow focus on me, me, me and my betterment and beauty – we predict that wellness concepts that get people out of their heads and ego (not more into them) will rise. Because the path to self-actualization means getting off the well worn, rutted road of endless obsession with self. That's why we think models that use mechanisms of fantasy and theater or role-playing and "wellness avatars" will rise, because they switch on people's imagination and cast them in a bigger-than-me saga. It's hardly "authentic," but just consider the current craze for "training like a mermaid."
People want life-changing wellness journeys, not disconnected programs, classes and treatments – and that's why Six Senses' new multi-lodge wellness circuits, as well as spa experiences reimagined as in-nature, multi-chapter adventures, should flourish. These moves speak to a key Summit roundtable topic: How single destinations (or single brands) need to inject more elements of the independently curated wellness retreat/journey into their experiences.
Millennials (and even younger generations) will help drive these new directions in wellness travel. As Well+Good founders, Alexia Brue and Melisse Gelula, argued in their Summit keynote, millennials are radically disrupting the category. Because they incorporate wellness into everyday life (and you can grab that meditation class or turmeric tonic just about anywhere now), what they seek in healthy getaways are elevated experiences that may build on their daily practices but don't replicate them. They want new wellness "lights" switched on, and that's one reason why we need – and will see – more "new ancients." There are so many potential wellness "stories" and sagas, so many wellness traditions across the world (beyond the pan-Asian standard fare at so many wellness destinations) that could be meaningfully explored. We need more journeys through Bhutanese happiness principles or ones based on strange Icelandic sagas. And more wellness destinations exploring "new ancients" are coming in 2018, like the much-anticipated opening in May of Euphoria Retreat, set near the Byzantine town of Mystras in Greece, and where it's about personal transformation via ancient Greek wellness philosophies.
Transformative travel is the current "it" concept and you can bet it will be overused and misapplied. But with wellness travel growing so fast and the space so increasingly competitive, creative experiments that can better immerse the traveler-heroine in a powerful story or narrative, or that take her on a multi-chapter wellness journey, are much needed. We needn't worry too much about transformation-washing because people will know it when they experience it…or not.
The successful wellness destinations of the future will put as much thought into engaging people's emotions as they do evidence-based healing. As Summit roundtable participant and W and Departures Editor, Sandra Ballentine, put it, "What I want from a wellness resort or spa experience is true transformation. If I don't cry, it's not been worthwhile to me." And to "cry" we would add laugh, or fear, or fantasize…
---
Endnotes:
Spa Business, "Details for Peninsula Hot Springs Expansion Revealed," 10/30/17
The New York Times, "Namaste, Museumgoers," 11/22/17
Copyright © 2017-2018 by Global Wellness Summit.
If you cite ideas and information in this report please credit "2018 Wellness Trends, from Global Wellness Summit".
For more information, email [email protected].