2023 Pre-Summit Trip
Doha Half-Day City Tour
Experience Highlights of Qatar
The thriving coastal capital of Qatar, Doha is one of the Middle East's most enchanting cities with an old-meets-new charm. With an experienced guide and luxury transportation, you will be led through iconic sites including The Pearl, Katara, Corniche, Msheireb Downtown Doha and Souq Waqif. The tour will also drive by the Museum of Islamic Arts and the National Qatar Museum.
The 4-hour long tour includes: Pick up and drop of at your hotel (Alwadi Hotel Doha, Park Hyatt Doha or Mandarin Oriental Doha) in a Mercedes coach, experienced, English speaking tour guide, bottled water and travel insurance.
Detailed Tour Information:
Date: Monday, November 6, 8am – 12noon
Price: QAR 200 per person / USD $55 per person
To book: Email: [email protected] or phone/WhatsApp: +974 558 645 68
Please identify yourself as delegate of the 2023 Global Wellness Summit when booking your spot.
Katara Cultural Village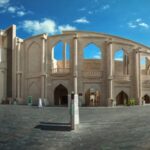 We will start our tour at Katara Cultural Village. The Cultural Village Foundation is an exceptional project of hope for human interaction through art and cultural exchange – a project made possible thanks to the inspired vision, solid faith and wise leadership of HH Sheikh Hamad Bin Khalifa Al Thani, the Father Emir of the State of Qatar.
Keeping pace with the emerging global culture that emphasizes the importance of diversity in human development, Katara Cultural Village is the largest and the most multidimensional cultural project of Qatar. It is a place where people come together to experience the cultures of the world. With beautiful theatres, concert halls, exhibition galleries and cutting-edge facilities, Katara aims to become a world leader for multi-cultural activities.
The Pearl Qatar

Next, we will explore The Pearl which is a man-made island near Doha's prestigious West Bay District. Featuring Mediterranean-style yacht-lined marinas, residential towers, villas, and hotels, the area also offers a luxurious shopping experience with premium designer boutiques and showrooms. The Island is also home to modern dining spots – from refreshing ice creams to five-star culinary experiences, and stands out for its pedestrian-friendly squares and plazas along with its wide range of landscaped gardens. The Pearl is a popular visitor attraction by virtue of its elegance, inviting descriptions such as the 'Arabian Riviera'.
The Pearl Qatar is a fascinating man-made island on four million sqm of reclaimed land. Known for its hotels, variety of charming cafes and restaurants, iconic marina and luxury boutiques, it is a popular residential area, with a lavish community lifestyle.
Corniche – West Bay

Our next stop is one of Doha's most iconic attractions, the Doha Corniche is a seven kilometer stretch of gorgeous promenade overlooking the serene waterfront. With a crescent shaped walkway around the Doha Bay, the Corniche offers the best views of the city's modern skyline, making the epicenter of various occasions such as the National Day celebrations and the National Sports Day. Watch the dhows lighting up the Corniche in the evenings while on your walk around the bay or simply take a boat ride to soak in the vista of this city.
Souq Waqif
Discover the hidden gems of the Souq Waqif through a unique cultural shopping experience. Join us on a journey through this ancient marketplace, masterfully redeveloped to maintain its original 19th-century look. Explore the vibrant alleys with an expert local guide to find the best vendors and deals, while learning about Qatari culture and history along the way. Souq Waqif is one of the most distinctively cultural attractions to explore in Qatar and a perfect encapsulation of local culture.
Your local guide will take to some of the hidden gems of Souq Waqif including the Spice & Gold Souq, Falcon and Carpet markets. This is the perfect trip for first time visitors to Qatar and the best way to experience authentic Qatari culture. Check out some camels and horses, souq waqif art center. Learn about the lost art of pearling, and see the many varieties of white, pink and grey pearls.
Msheireb Downtown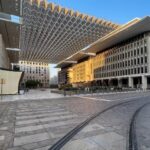 The last stop brings us back to Msheireb Downtown, which is a prominent development project in the heart of Doha, Qatar and location of our 2023 Global Wellness Summit. It is a mixed-use development that aims to revive the historical center of Qatar's capital city, with a focus on sustainability and preserving the country's cultural heritage. Here is some information about Msheireb Downtown:
Location: Msheireb Downtown is situated in the center of Doha, covering an area of approximately 31 hectares. It is bordered by important landmarks such as Corniche Street, Souq Waqif, and the Financial
District.
Concept: The development project aims to transform Doha's oldest district into a vibrant and sustainable city center. The core principles guiding the design and development include preserving Qatar's heritage, promoting sustainable practices, and creating a socially engaging environment.
Sustainable Design: Msheireb Downtown prioritizes environmentally friendly practices. The buildings are designed to be energy-efficient and incorporate sustainable technologies, such as solar panels and efficient cooling systems. The project has received numerous accolades for its commitment to green practices.
Attractions: Msheireb Downtown is home to various attractions, including the Msheireb Museums, which explore Qatari history, heritage, and culture. The district also has several high-end shopping and dining options, as well as public spaces for social gatherings and events.
Msheireb Downtown is a significant project in Qatar, aiming to transform the city center into a sustainable, culturally rich, and attractive destination for locals and tourists alike.
---
Qatar International Tours (QIT) is an established, reliable and well-known tour operator based in Doha, since 1999, offering unique Desert Adventures, Tours, Safaris, Dhow Cruises and Water sports activities and has tailor made journey or adventure to meet the special requirements of the customers/clients/guests. Guides are carefully selected for the personality, wide knowledge and genuine enthusiasm for our style of tours. Never boring – you will find them informative, professional but down to earth with a real passion for showing you the very best of Qatar.
 Please note that there is a minimum number of 20 participants in total.