Media Contact: Beth McGroarty
[email protected] • +1.213.300.0107
Global Wellness Gets High Tech and Creative to Deliver the Safe, Healthy Conference of the Future
"Resetting meetings" means: Required rapid COVID-19 testing at check-in; deploying
state-of-the-art Far-UVC & UVC light technologies to continuously deactivate potential coronaviruses in the main ballroom; offering attendees their own "wellness space" instead of the traditional banquet chair; pushing sessions and events out into the fresh, ocean air—and having a former US Surgeon General serve as Medical Advisor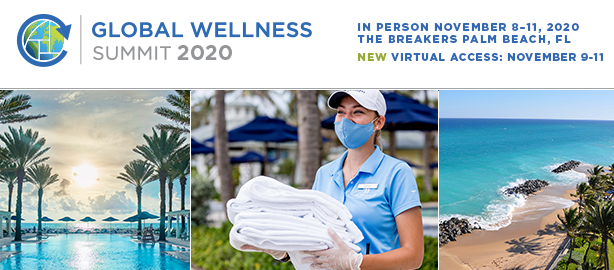 Miami, FL – October 15, 2020 – When Global Wellness Summit (GWS) delegates meet at The Breakers Palm Beach from November 8–11, they will experience a number of new technologies and creative moves that are "meeting firsts" and all designed to keep them as safe as possible. The GWS has been working overtime to invent new standards for a hygienic and healthy conference, and while it includes the "givens," such as a smaller gathering, physical distancing, masks and temperature checks, the organization has gone much further: deploying cutting-edge air and surface sanitation technology and using a whole lot of creativity.
The GWS will require rapid, medically administered COVID-19 testing at check-in, thanks to Premier Family Health of Palm Beach. Through a partnership with Healthē, the Summit will install human-safe, Far-UV light technologies to continuously fight potential coronaviruses in interior conference spaces. The main meeting space is also being transformed into a series of creatively distanced "wellness spaces" so that delegates can move and sit on recumbent bikes and stability balls, rather than traditional banquet chairs (realized with the John W. Brick Mental Health Foundation). The protocols and location of the host property are the bedrock of a safe conference: The Breakers not only exceeds every CDC and World Health Organization guideline for hotel safety during COVID-19, it's set on 140 oceanfront acres, so it's allowing the GWS to push many sessions and events into the great outdoors. And Dr. Richard Carmona, 17th US Surgeon General, serves as Medical Advisor.
"Creating the 2020 GWS has meant thinking way out of the usual 'meetings box'—and we are only able to invent this new 'Safe Summit' by collaborating with the best in the business: Dr. Carmona, The Breakers, Healthē, Victor and Lynne Brick, Premier Family Health, and more," said Nancy Davis, GWS chief creative officer and executive director. "We've taken extraordinary measures to mitigate risk; it's meant rethinking every aspect of the conference, and we hope we can serve as a model for how to meet safely again."
"I'm a big supporter of creating a safe and smart in-person conference that embraces new concepts and technologies to bring people together again in a whole new way," said Dr. Carmona. "This virus will be with us a long time, and isolation takes a heavy mental health and business toll. I'm happy to serve as Medical Advisor and provide the review of its safety protocols."
Rapid COVID-19 testing:
The GWS will mandate rapid, reliable COVID-19 testing as part of the registration process, through a partnership with Premier Family Health, the largest integrative medicine practice in Palm Beach County. Premier's medical team will administer tests in a private area; everything is HIPAA compliant; and Premier's professional team will be stationed onsite to provide up-to-date information regarding COVID-19 and answer any delegate questions.
Deploying Healthē's real-time sanitization solutions using Far UVC (220 nanometer) light, proven to mitigate coronaviruses in air and on surfaces:  
Healthē, a leader in developing and deploying sanitization, circadian and biological lighting solutions, has new technologies that utilize Far-UVC and UVC light to disinfect indoor environments in real time, and they're creating custom solutions for the GWS.
Conventional germicidal, longer wavelength UVC light has been used for decades (in places like empty hospital rooms) to disinfect the air and surfaces of viruses and pathogens—but cannot be used in occupied indoor spaces because it can damage human eyes and skin. Now scientists are finding that shorter wavelength, Far-UVC light (which, studies show, doesn't penetrate the dead skin layer of humans) may prove a powerful weapon in eliminating viruses (in the air or on surfaces) any place where people gather indoors. A new study from Columbia University Medical Center found that 99.9% of seasonal coronaviruses in airborne droplets were killed when exposed to Far-UVC 222 light.
"To help ensure the safety of all Summit attendees and staff, Healthē will be deploying its new, cutting-edge UVC and Far-UVC light sanitizing solutions at key pass through and gathering locations throughout the convention and hotel space," said Fred Maxik, founder and chief scientific officer of Healthē. "Our Far-UVC technology, which is already in use in iconic public venues, is the leading comprehensive air and surface sanitization solution used to combat the spread of pathogens and viruses that is also safe for indoor environments. It's going to help transform public health and safety in a post-pandemic world—for the meetings and other key industries—for years to come."
Three Healthē technologies will protect the GWS' indoor meeting space:
The Healthē Entry: As attendees approach the ballroom they receive a temperature check and also pass through a portal that uses Far-UVC 222 light to remove up to 90% of the possible viral (and bacterial) load on a person's clothes and belongings.
Healthē Space: Within the ballroom, a custom version of the Healthē Space solution will be installed, which uses overhead lamps that emit Far-UVC 222 light to disinfect the room's air and surfaces in real time.
Healthē Air: A multi-stage solution using stronger UV wavelengths to continuously sanitize the air, featuring HEPA-Carbon activated filtration to purify the air before reaching HVAC's duct openings.
Research on virus-eradicating Far-UVC light technology is accelerating at world universities, with new studies covered everywhere from CNBC to the BBC. Healthē's solutions are seeing rapid adoption: from being used in the Miami Dolphins' locker rooms to a partnership with Boeing to develop UVC 222 solution to protect airplane cabins.
"Wellness spaces":
Other creative moves inside the ballroom: Delegates can occupy their own "wellness space" while taking in presentations, where they can sit on a recumbent or standing bike or a stability ball instead of a conference chair. Victor and Lynne Brick of the John W. Brick Mental Health Foundation are helping transform the ballroom into a series of wellness zones, donating the equipment that creates a natural distance between people and helps the conference get people moving. (Regular seating, appropriately spaced, is also available.)
Take it outside:
Location is everything in creating a safe conference, and The Breakers, a vast, beachfront resort, allows many sessions and events to be pushed outside. Afternoon brainstorming sessions on "resetting the world with wellness" will be held in the Mediterranean Courtyard, with delegates seated at tables with umbrellas, café-style. The first-night cocktail party, hosted by The Breakers, takes place on a lawn overlooking the ocean; while an alfresco, distanced disco-dancing party and drive-in movie night (from golf carts) are planned. The Breakers is working with the GWS to reimagine safe, healthy conference F&B: For instance, at breaks, attendees grab upscale, prepackaged boxes (with fresh, immune-boosting ingredients) to enjoy picnic-style on the lawns.
The Breakers' 360-degree safety protocols:
The Breakers has implemented intensive health and safety protocols for all guests during COVID-19, exceeding CDC and WHO guidelines. View their 14-page safety document: https://www.thebreakers.com/updates/
While Florida has opened up businesses to 100% capacity, The Breakers has not. Just a few of their protocols: mandatory masks in all indoor and public areas; daily temperature and health screenings for all staff; 100% touchless guest transactions; daily disinfection of HVAC/air filtration systems with UV light and ionization technologies; relentless cleaning practices throughout the property, including electrostatic spray technology and antimicrobial applications; and they're one of the only US hotels with a dedicated food safety manager.
Capacity at the 2020 Summit is very limited. Learn more or register here.
About the Global Wellness Summit: The Global Wellness Summit is an invitation-only international gathering that brings together leaders and visionaries to positively shape the future of the $4.5 trillion global wellness economy. Held in a different location each year, Summits have taken place in the US, Switzerland, Turkey, Bali, India, Morocco, Mexico, Austria, Italy and Singapore. The 14th annual Summit will take place at The Breakers Palm Beach, FL, from November 8–11, 2020. The 2021 GWS will be held in Tel Aviv, Israel, November 15–18.