Media Contact: Beth McGroarty
[email protected] • +1.213.300.0107
Global Wellness Summit Launches Fourth Season of Podcast
The only podcast devoted to interviewing world wellness leaders announces new episodes with Mindbody Founder Rick Stollmeyer; Award-Winning Physicist and Founder, Lighting Science Group, Fred Maxik; Co-Owners, Planet Fitness Growth Partners, Victor and Lynn Brick; Dr. Nicola Finley of Canyon Ranch; and wellness architecture pioneer Veronica Schreibeis Smith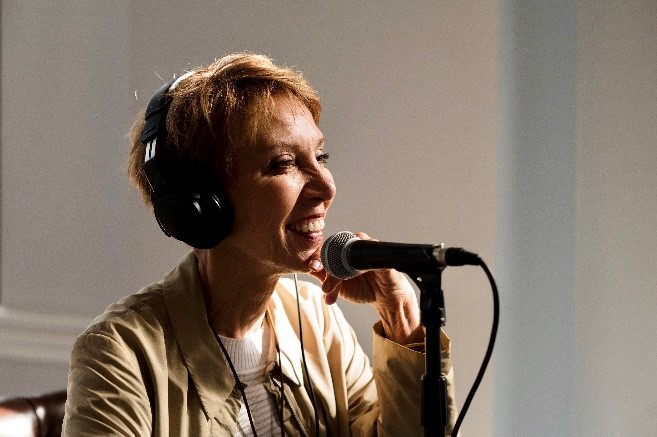 Miami, FL – November 25, 2020 – The Global Wellness Summit (GWS), the annual gathering of international leaders in the multitrillion-dollar global wellness economy, today launched the fourth season of its podcast devoted to interviewing top executives and thinkers in the wellness industry on where the space is headed. The new season features keynote speakers and panelists that recently gathered at the conference held at the iconic The Breakers Palm Beach, FL, from November 8–11.
Experience the entire 2020 Summit on demand: An access package is available now, which includes all 73 main-stage keynotes, interviews, and panels with world experts on the future of wellness–and exclusive access to the Global Wellness Institute's new research report, "Defining the Mental Wellness Economy."  Learn more.
More on the new podcast season:
Kim Marshall, co-founder of S'Well Public Relations, is the host (and S'Well produces the podcast), and in this new season, she goes in-depth with experts on everything from how virus-eradicating Far-UVC light technology could prove a COVID-19 game changer to how to build a wellness business that lasts.
The first episode is released today, and it's an inspiring interview with wellness architecture pioneer Veronica Schreibeis Smith on how wellness concepts are transforming design and interior spaces. Smith was just named the winner of the Global Wellness Summit's "Leading Woman in Wellness Award."
A new episode will be released each week, and next week Marshall sits down with Fred Maxik, an award-winning physicist and the founder of Lighting Science Group, for a moving, hopeful discussion about how new virus-fighting, circadian and biological lighting solutions could transform human health and public safety for years to come.
The podcast has a vibe that's been likened to "coffee with keynoters," and in the roughly 45-minute conversations, listeners hear the origin stories of companies and their founders, what compelled these leaders to work in the wellness field, what they've learned from their mistakes and successes, and what they feel are the most important future trends in health and wellness. The breadth of their insights and expertise illustrates why the Summit has become the not-to-be-missed annual event on the business of wellness.
"It was such a comfortable, friendly conversation with Kim, but we still fit in such a wide range of topics—from healthy hormones to the joy of dance," said Nicola Finley, MD, an integrative physician at Canyon Ranch, who was joined in her episode by Nina Boyce, a certified holistic health coach and the host of the popular podcast "Healing Hormones."
The first-ever "hybrid" Summit got very high-tech and creative this year to protect its in-person delegates at The Breakers, and the conference's medical advisor was Dr. Richard Carmona, the 17th US Surgeon General. This focus on safety carried over into the podcast recordings: For instance, Marshall sat at one end of a 14-foot table while guests sat at the other, and Healthe's innovative Far-UVC lighting was deployed to sanitize the air and surfaces of viruses and other pathogens in the recording space (and even the clothes of podcast participants).
There are now over 30 episodes of the GWS podcast available for free download at pod.link/gws or on Apple or Google Podcasts, Spotify, or any popular podcast platforms. The podcast is sponsored by Vireo Systems and their Promera Health Immune Support.
This season's episodes include:
How wellness principles can transform home design and interior environments––Veronica Schreibeis Smith, CEO and founding principal, Vero Iconica Architecture.
Lighting technology's bright future role in controlling COVID-19 and in human circadian health––Fred Maxik, founder and CTO, Lighting Science Group Corporation.
How to build a resilient wellness business that can survive curveballs––Rick Stollmeyer, founder, Mindbody, and author of the new book Building a Wellness Business That Lasts.
One couple's journey to make fitness and mental wellness far more inclusive––Victor and Lynn Brick, founders of Planet Fitness Growth Partners and the John W. Brick Mental Health Foundation.
The big insights and trends discussed at the 2020 Summit––Susie Ellis, GWS chairman and CEO; Anna Bjurstam, wellness pioneer, Six Senses, and the virtual emcee of the 2020 GWS.
Racial disparities in health and wellness and the power of healthy hormones and dance–– Nicola Finley, MD, Canyon Ranch; Nina Boyce, host of the popular podcast, "Healing Hormones."
How to sleep smart––Francisco Levine, CTO, Bryte Beds; founder, Allison Howard, Nollapelli Sheets.
How to really execute wellness at work––Paul Leone, CEO, The Breakers Palm Beach, the historic resort that has won numerous awards for its innovative, comprehensive programs to support its employees' wellness.
How technology is shaking up the delivery of meditation and mindfulness––Zev Suissa, chief innovation officer and head of strategic partnerships, eMindful.
About the Global Wellness Summit — An invitation-only international gathering that brings together leaders and visionaries to positively shape the future of the $4.5 trillion global wellness economy. Held in a different location each year, Summits have taken place in the US, Switzerland, Turkey, Bali, India, Morocco, Mexico, Austria, Italy and Singapore. The 14th Summit took place at The Breakers Palm Beach, FL, from November 8–11, 2020. The 2021 GWS will be held in Tel Aviv, Israel, November 15–18.