Media Contact: Beth McGroarty
[email protected] • +1.213.300.0107
New Slate of Speakers Announced for the 2021 Global Wellness Summit Reveals the Depth and Diversity of Disruption Underway in Health and Wellness
Speakers include Chip Conley, who shook up hospitality with Airbnb and Joie de Vivre, and is now on a mission to rewrite aging; Varda Shalev, MD, who transformed Israel's healthcare system by harnessing the power of digital technology; and scientists from Timeshifter using circadian science to reinvent health and even "time"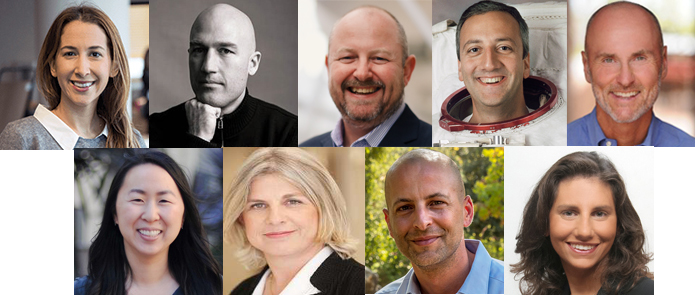 Miami, FL – November 3, 2021 – The 2021 Global Wellness Summit's theme is "A New New Era in Health & Wellness"–and the numerous keynote speakers announced today powerfully illustrate that we are indeed entering an unprecedented time of wellness disruption and creativity. A diverse array of scientists, doctors, technologists and startup founders will keynote on the new concepts in health and wellness they're busy inventing–shaking up everything from healthcare to higher education.
Chip Conley, founder of the Modern Elder Academy, the first midlife "wisdom school," will discuss the profoundly different future ahead for aging and new models that will make it healthier. Dr. Varda Shalev, director of Maccabitech, the innovative research wing of Israel's vast Maccabi Healthcare Services, and co-founder of the startup, Alike Health, will explain how artificial intelligence (AI), crowdsourcing and big data can transform healthcare by delivering new preventative, personalized medicine. Abby Brody, founder of MYX, a 21st-century approach to higher education, will speak on how a new focus on purpose and wellness can transform the college experience.
Experts will explain how everything from circadian science to cryptocurrencies and blockchain to lighting technology will change human health and the wellness market. A dedicated Tech Pavilion will showcase the latest innovations from major industry players including fitness technology leader, Technogym; recovery tech pioneer, Therabody; and Mindbody, the platform that connects people to wellness providers.
The Summit takes place in-person in Boston, Massachusetts and virtually from November 30 to December 3. View the evolving lineup of speakers.
"We're gathering an extremely wide range of thinkers and companies who are pushing wellness and prevention far beyond the usual categories–many using science and technology to do more than create another commercial wellness product, but rather solve huge health problems and do nothing less than change the world," said Susie Ellis, GWS chair and CEO.
More on the speakers and their talks on the future of health & wellness:
Abby Brody is founder and CEO of MYX, a new approach to higher education that meets the needs of the 21st century by creating experiences for young adults to find their life purpose while also gaining essential skills for life success. She's a lifetime educator, a founding member of Avenues: The World School, and her keynote speech is entitled: "Disrupting Higher Education for a Higher Purpose."
Mickey Beyer-Clausen, CEO of Timeshifter, Dr. Steven W. Lockley of Harvard Medical School, and Mike Massimino, former NASA astronaut, will deliver a provocative session on "Reinventing Time."
Mickey Beyer-Clausen, a Danish-born, New York-based serial entrepreneur, has a long track record of building genre-defining companies with a focus on improving people's mental performance and wellbeing using science and technology. As co-founder of Timeshifter, the world's first tech platform for optimizing health and performance using circadian science, he oversees a team solving some big problems: from shift work disorder to jet lag to medical treatment and medication efficacy.
Steven W. Lockley, BSc, PhD, is a world-renowned sleep and circadian neuroscientist, associate professor of medicine at Harvard Medical School, and co-founder and chief scientist at Timeshifter. He has spent 25 years studying ways to reset the circadian clock and works with clients such as NASA and Formula 1's elite.
Mike Massimino, PhD, is a former NASA astronaut; professor of mechanical engineering at Columbia University; the senior advisor for space programs at the Intrepid Sea, Air & Space Museum; New York Times bestselling author of Spaceman: An Astronaut's Unlikely Journey to Unlock the Secrets of the Universe; and recurring character on The Big Bang Theory.
Chip Conley is a rebel hospitality entrepreneur who disrupted his favorite industry…twice. At age 26 he founded Joie de Vivre Hospitality, turning an inner-city motel into the second-largest US boutique hotel brand. He was then instrumental in transforming Airbnb into the world's leading hospitality brand as Head of Global Hospitality and Strategy. He's the author of five books, including New York Times bestsellers. He is founder of the Modern Elder Academy, the first mid-life wisdom school dedicated to transforming aging. He will speak on how aging will be radically reimagined in the future.
Maggie Hsu is global business development lead for Amazon Web Services' blockchain product, Amazon Managed Blockchain. She previously led business development for AirSwap/Fluidity and held executive positions at Zappos.com and Hilton Worldwide. She is co-founder of Gold House, a nonprofit collective of pioneering Asian leaders; and is a Cornell Institute for Healthy Futures Industry Scholar. Her keynote: "Cryptocurrencies, Block Chain and Why It Matters."
Varda Shalev, MD, MPH, is professor of epidemiology and preventative medicine at Tel Aviv University and the director of Maccabitech, the influential innovation wing of Israel's Maccabi Healthcare Services (the second-largest provider in Israel). At Maccabitech she has used big data analysis and AI to transform healthcare in Israel, developing digital medical systems and creating the largest biobank in the country (bio samples from 2 million patients; data from 9,000 providers) to create much smart, prevention-focused medicine–from being able to predict colon cancer from routine blood tests to inventing technology that custom-tailors antibiotics for each patient. She is co-founder and Chief Medical Officer of Alike Health, which harnesses the power of artificial intelligence, crowdsourcing and big data to empower patients, change healthcare, and improve lives. Her keynote: "Digital Health Transforms a Nation."
Panel featuring health and wellness innovators from the startup nation of Israel–moderated by Amir Alroy and Galit Horovitz, Welltech Ventures:
Amir Alroy is co-founder of Welltech Ventures, Israel's leading fund focused exclusively on investing in the health and wellness space, partnering with entrepreneurs that are building paradigm-shattering companies. He was the founder and CEO of Cloud 9 Wellness Clubs, the first exclusive personal training clubs in Israel, and COO of the global company, Arizen Real Estate Development.
Galit Horovitz, co-founder of Welltech Ventures, has extensive experience in business development and international M&A, working with companies in various fields including technology, finance and consulting. Previously, she was business development partner at SZ Financial Consulting, and also worked at BDO Consulting Firm in the global M&A department.
Tech Pavilion featured companies:
Ballancer Pro: State-of-the-art technology delivering contactless massage, full-body detox and body contouring in a relaxing setting.
Healthe: A tech leader harnessing the power of light to create a safer, more productive, and healthier indoor environment–which develops products using UVC and Far-UVC 222 technologies that independent studies show inactivate viruses and bacteria in the air and on surfaces.
Human Touch: Will present the Human Touch Super Novo massage chair, recognized as one of the best wellness and recovery innovations on the market.
Mindbody: The leading experience technology platform for the fitness, wellness, and beauty industries. Fitness studios, salons, spas, and integrative health centers use Mindbody's integrated software and payments platform to run, market, and grow their businesses.
OsteoStrong: The foundation of longevity starts with developing a superhuman skeletal system with OsteoStrong's patented robotic devices.
Technogym: The world's leading brand in equipment and digital services for fitness, sport and health; 50 million people train on Technogym equipment each day in over 100 countries.
Therabody: Will showcase how their solutions are transforming the wellness and recovery experience across industries with TheraOne USDA Certified Organic CBD products and smart therapeutic modalities including percussive, vibration, compression, and muscle stimulation therapy.
Registration is now open for the in-person event at the Encore Boston Harbor; space is extremely limited.
Virtual attendees have access to all on-stage presentations–live and on-demand–as well as online breakout and networking sessions hosted by Anna Bjurstam, Six Senses Wellness Pioneer. Register to attend virtually here.
Media: To apply to attend virtually or in-person as press, please fill out the media accreditation form.
About the Global Wellness Summit —The Global Wellness Summit is the premier organization that brings together leaders and visionaries to positively shape the future of the $4.5 trillion global wellness economy. Its future-focused conference is held at a different global location each year and has traveled to the US, Switzerland, Turkey, Bali, India, Morocco, Mexico, Austria, Italy and Singapore. GWS also hosts regular virtual gatherings, including Wellness Master Classes, Wellness Sector Spotlights and Investor "Reverse Pitch" events. The organization's annual Global Wellness Trends Report offers expert-based predictions on the future of wellness. The 2021 Summit will be held in Boston from November 30–December 3.