2020 Summit – A Model for a Safe Conference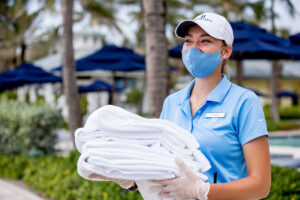 As delegates gather to be part of charting the way forward, "Resetting the World with Wellness," the GWS will also premiere a new model for safe gatherings and events. Nothing is more important than our collective health and safety and we are taking extraordinary measures to mitigate risk. We have a team that is second to none, including GWS Medical Advisor Richard Carmona, MD, the 17th U.S. Surgeon General. Together with The Breakers, which already exceeds every guideline for health and safety in a hotel environment, we are also adding new technologies and protections.
Important note: to ensure this is a safe conference, capacity is limited. We encourage you to register soon. If you are not able to travel, you can also register for the Summit Virtual Access Package at the same link.
Our Commitment to a Safe Summit
Every aspect of this historic conference is being curated to deliver a safe, hygienic way to meet. We are working closely with The Breakers teams, along with local and federal government agencies, to exceed all standards for a safe gathering. In addition, The Breakers, the site of the highly successful 2017 Summit, is a sprawling beachfront property that will enable appropriate physical distancing and generous use of outdoor spaces.
Explore health and safety precautions at The Breakers.
Here a few examples of the GWS' innovative approach to safe gatherings:
• Rapid, 15-minute, reliable COVID-19 testing upon arrival and on-site medical consulting, overseen by Premier Family Health)
• Daily temperature checks; mandatory mask-wearing; hand sanitizing; physical distancing; extraordinary staff; and immune-boosting and healthy food from The Breakers
• Custom, cutting-edge Far-UVC technology to disinfect indoor environments in real-time, provided by Healthē
• Socially distance seating in all venues. Wellness spaces, featuring fitness equipment in the ballroom, are an alternative to traditional conference seating, courtesy of the John W. Brick Mental Health Foundation
• Audiovisual production handled with strict protocols and reimagined staging, produced by Blackpoint Creative and Burlingame Consultants
• Expert oversight of all health and safety protocols and practices, overseen by Dr. Richard Carmona, medical advisor to the GWS
• Many meetings and events will take place outdoors, including "Resetting Brainstorming Sessions"
• The Breakers seaside location, white sand beaches, and fresh air are a natural setting for wellness, courtesy of Mother Nature

Read the press release. Check back for additional safety updates.
Dr. Richard Carmona: Public Health Advocate and Wellness Pioneer Leading the effort to ensure a safe gathering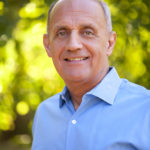 Richard Carmona, MD, 17th U.S. Surgeon General,  is the GWS Medical Advisor this year. He is renowned for his deep experience in public health, health care management, and his commitment to prevention as a way to improve health and wellbeing. During his tenure as Surgeon General, he issued the definitive report on the dangers of second-hand smoke. [1]
Dr. Carmona is a bestselling author and holds degrees from the University of California, San Francisco, and the University of Arizona, Tucson. He is also a distinguished professor at the University of Arizona, the Mel & Enid Zuckerman College of Public Health; chief of health innovation, Canyon Ranch; and a member of the Global Wellness Institute's board of directors.  He was instrumental in creating the GWI's Wellness Moonshot, the first global commitment to eradicate preventable, chronic diseases.
The 2020 Summit

"Resetting the World with Wellness"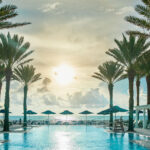 During this three-day conference, experts will bring wellness to life in unique ways and explore how holistic and inclusive concepts could transform humanity post-COVID-19. The 2020 agenda will include the first Tech Innovation Pavilion, new research on the escalating mental wellness market, a focus on the surge in wellness real estate and communities, and more.
We intend to leave the 2020 Summit with the information needed to create a road map for the future—a clear path forward that is the result of three days of intensive discussion, global interactions, deep connection, and a good deal of fun.
To ensure this is a safe conference, capacity is limited. We encourage you to register soon.
[1] New York Times, "Secondhand smoke is far greater than earlier believed," John O'Neil, June 2006.