2023 Pre-Summit Trip
Doha Full-Day Museum & Architectural Tour

Spend A Day in the Glorious Architecture of Qatar
Qatar is known for its stunning, world famous, modern buildings, including museums designed by award-winning architects. Step onto a luxury coach and into the world of high design; structures featuring geometric patterns made with indigenous stone, collections that reveal a storied, proud history. On this day-long tour, you will be guided through these fascinating Museums, and be given a little time to explore (or shop!) on your own.
As a very special part of this tour, something offered only to GWS delegates, you will be accompanied by Deyan Sudjic, architect, curator, publisher, critic, author, and a keynote speaker at the Summit, who will informally offer thoughts along the way. Deyan will be with you for the day, including lunch, where he is likely to share some keen insights. (see Deyan's bio below.)
The full day tour includes: Pick up and drop of at your hotel (Alwadi Hotel Doha, Park Hyatt Doha or Mandarin Oriental Doha) in a Mercedes coach, experienced, English speaking tour guide, 3 museum entrance fees, lunch at Jiwan restaurant, bottled water and travel insurance.
Detailed Tour Information:
Date: Sunday, November 5, 9am – 5pm
Price: QAR 800 per person / USD $220 per person
To book: Email: [email protected] or phone/WhatsApp: +974 558 645 68
Please identify yourself as a delegate of the 2023 Global Wellness Summit when booking your spot.
9:00AM Pick-up at Summit hotels: Mandarin Oriental Doha, Park Hyatt Doha, and Alwadi Doha
9:45AM-11:15AM Visit to National Museum of Qatar
11:30AM-1:00PM Lunch at Jiwan; restaurant inside Museum
1:15PM Depart Museum
1:45PM-3:15PM Visit Museum of Islamic Arts
3:30PM Depart Museum
3:45PM-4:30PM Visit 3-2-1 Sports Museum
4:45PM-5:15PM Depart Museum and en route back to hotels, drive past Aspire Tower and Khalifa Stadium
Wear comfortable clothing and shoes. Out of respect for the Qatar culture, women who wear skirts or dresses should be sure they are covered to just below the knee. No tank tops, bare arms, or plunging necklines. No shorts for men.
More about our special guest
Deyan Sudjic was born in London, studied architecture in Edinburgh, edited Domus magazine in Milan, taught design in Vienna, and has curated exhibitions in Istanbul, Copenhagen, Taiwan, and Seoul. He is a professor at Lancaster University in the UK, and director emeritus of the Design Museum in London. He has been a critic for the Observer, the Sunday Times and the Guardian. As an author he has been published in eleven languages. His most recent book, Stalin's Architect, a biography of Boris Iofan, was shortlisted for the 2022 Pushkin House prize. In 2023, he was the founding editor of Anima, a new review of architecture and design.
---
National Museum of Qatar
We will start our tour at the National Museum of Qatar. Designed by Pritzker Prize-winning architect Jean Nouvel, the museum draws inspiration from and recreates the naturally occurring crystal formations known as the desert rose. Built around Sheikh Abdullah bin Jassim Al-Thani's original palace, and the seat of government for 25 years, the National Museum of Qatar gives voice to Qatar's heritage whilst celebrating its future. It spans a whopping 430,500 square feet.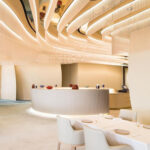 We will enjoy lunch at the magnificent Jiwan Restaurant within the museum. Jiwan's contemporary Qatari menu has been carefully curated to take us back to the country's roots. Seasonal sharing dishes pay homage to indigenous ingredients. Ancient Bedouin elemental cooking techniques —fire, water, air, and earth — are used to transform textures and familiar flavors. The result is a celebration of Qatar's future culinary identity. Simple yet sophisticated. Novel yet comfortingly nostalgic.

Museum of Islamic Arts
Next, we will explore the Museum of Islamic Art (MIA) which houses one of the most comprehensive collections of Islamic art in the world, with masterpieces from every corner of the globe representing the diversity found in Islamic heritage. The MIA is an architectural masterpiece designed by architect I.M. Pei.

3-2-1 Qatar Olympic and Sports Museum
Our next stop is the 3-2-1 Qatar Olympic and Sports Museum which offers an unforgettable and inspiring interactive journey through the history and legacy of sports and the Olympic Games. The museum delivers a multi-layered educational narrative that combines a comprehensive collection with state-of-the-art technology and documents the significance of sports in Qatar. One of the largest Olympic Museums in the world, 3-2-1 houses hundreds of objects from around the globe, from the origins of sports to the modern day. Through its participatory spaces and planned programming, the Museum aims to inspire and engage its community and encourage the public to participate in sports and physical activity. The Museum is located at Khalifa International Stadium, part of Qatar's Aspire Zone Foundation. The Stadium, originally built in 1976, hosted the FIFA World Cup Qatar 2022™.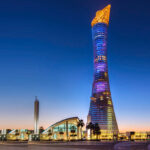 Aspire Tower
The Aspire Tower was built to house the Symbolic Flame of the 2006 Asian Games. The design symbolizes a hand grasping the torch that sits at the tower's top. The tower houses a five-star hotel, a sports museum, a health club with a cantilevered swimming pool, a revolving restaurant, and an observation deck.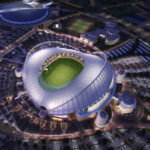 Khalifa Stadium
Khalifa International Stadium (/kəˈliːfə/, Arabic: استاد خليفة الدولي, ALA-LC: Istād Khalīfah al-Duwalī) is a multi-purpose stadium located in Al Rayyan, Qatar, around 9 kilometers (6 miles) west from the center of Doha. Its ground comprises a running track and a grass pitch.
---
Qatar International Tours (QIT) is an established, reliable and well-known tour operator based in Doha, since 1999, offering unique Desert Adventures, Tours, Safaris, Dhow Cruises and Water sports activities and has tailor made journey or adventure to meet the special requirements of the customers/clients/guests. Guides are carefully selected for the personality, wide knowledge and genuine enthusiasm for our style of tours. Never boring – you will find them informative, professional but down to earth with a real passion for showing you the very best of Qatar.
 Please note that there is a minimum number of 10 participants in total.