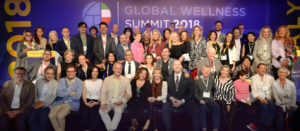 2018 Summit Sponsors
Thank you to the 2018 Global Wellness Summit sponsors, whose valuable support made this landmark event possible.
Host Sponsor




Founded in 1983, Technogym is a world leading international supplier of technology and design driven products and services in the Wellness and Fitness industry. Technogym provides a complete range of cardio, strength and functional equipment alongside a digital cloud based platform allowing consumers to connect with their personal wellness experience anywhere, both on the equipment and via mobile when outdoors. With over 2,000 employees and 14 branches globally, Technogym s present in over 100 countries. More than 65,000 Wellness centers and 200,000 private homes in the world are equipped with Technogym. Technogym was the official supplier for the last five editions of the Olympic Games: Sydney 2000, Athens 2004, Turin 2006, Beijing 2008, London 2012 and has been appointed as Official Supplier also for Rio 2016. Visit Technogym at www.Technogym.com.




Emilia Romagna Region Tourism Board is responsible for planning and implementing the promotion of tourism in the Emilia Romagna Region and the regional system of Chambers of Commerce. In this capacity, the organization manages regional tourism plans for domestic tourism promotion and specializes in carrying out projects to bolster the reputation of Emilia Romagna in international markets as a travel destination. Among the emerging tourist products, the Wellness Valley is a synthesis of the region's healthy, high-quality lifestyle and art, culture, natural heritage and the regional food and wine of Romagna. This initiative brings together the best of Emilia Romagna's tourism facilities and the region's culture of hospitality, with an emphasis on well-being, together under one brand.
Visit Emilia Romagna Wellness Valley at www.visitwellnessvalley.com.

Diamond Sponsor




Weight Watchers is a global wellness company and the world's leading commercial weight management program. We inspire millions of people to adopt healthy habits for real life. Through our engaging digital experience and face-to-face group meetings, members follow our livable and sustainable program that encompasses healthy eating, physical activity and positive mindset. With more than five decades of experience in building communities and our deep expertise in behavioral science, we aim to deliver wellness for all. To learn more about the Weight Watchers approach to healthy living, please visit www.weightwatchers.com.

Platinum Sponsors




For over 35 years Biologique Recherche's unique methodology has built a strong reputation for astounding effectiveness based on a clinical approach to skincare, delivering immediate and long lasting results. Combined with highly customized protocols and meticulous procedures which recondition the epidermis, Biologique Recherche's extensive range of skincare products are highly concentrated in botanical, marine and biological active ingredients that are cold formulated in its own laboratory in France. Biologique Recherche is the partner of choice in over 70 countries for exclusive medical spas and day spas in addition to the world's premiere luxury hotel spas. Visit Biologique Recherche at www.biologiquerecherche.com.




BuDhaGirl is the first lifestyle brand whose mission is to affect cultural change by turning everyday routines into rituals. Through Mindful Glamour®, BuDhaGirl merges contemplative practice and evidence-based science with fashion. Our jewelry, accessories and home décor are vehicles for redefining the art of living well. BuDhaGirl approaches fashion with a holistic world-view, ensuring the life cycle of our products honor global traditions and art forms. The customer experience might be our most valuable asset. We invite each individual to set intentions and create rituals around the process of grooming and dressing each day. BuDhaGirl lingers and becomes an integral part of everyday life. Visit BuDhaGirl at www.budhagirl.com.




Canyon Ranch® has been a trailblazer and an industry-leading proponent of the wellness lifestyle and real estate living for nearly 40 years, operating the world's most celebrated collection of life-enhancement properties. Canyon Ranch has wellness destinations in Tucson, Arizona and Lenox, Massachusetts. In addition, Canyon Ranch operates the world's largest  day spa at The Venetian® & The Palazzo® hotels in Las Vegas, Nevada and 22 Canyon Ranch at Sea® wellness facilities onboard luxury cruise ships:  Cunard Cruise Line, Oceania® Cruises, Regent Seven Seas Cruises®, and on Celebrity Cruises®. Canyon Ranch is a 13-time winner of Travel + Leisure's Best Spa Award, an 11-time recipient of the Condé Nast Traveler Best Destination Spa Award, is honored by Town & Country as one of the 'Best Luxury Spas in the World' in their 2017 Spa Awards and is recognized as the 'Best Wellness Program' by Virtuoso's 'Best of the Best' 2017 awards. Visit Canyon Ranch at www.canyonranch.com.




[ comfort zone ] is a holistic science-based spa skin care brand created in 1996 by Dr. Davide Bollati, pharmacist, cosmetic chemist, and current Chairman of the Davines Group, which also features /skin regimen/, modern plant chemistry™ solutions for urbanites, and Davines, a professional hair care brand. All our products are designed and manufactured in Italy. They combine natural-origin ingredients and high-tech molecules for maximum performance and sustainability. Our selective, high-end international distribution is supported by solid educational and marketing programs. The strong commitment to rigorous standards of environmental and social sustainability has allowed the Group to become a B Corporation, and is embodied in the Davines Village in Parma, a virtuous example of sustainable architecture and production, including a scientific, open-air lab botanical garden.
Visit [ comfort zone ] at www.comfortzone.it.

Gold Sponsor




Booker by MINDBODY is transforming the way beauty and wellness services are managed by local businesses and discovered by consumers. Booker replaces everything from manual methods to disconnected software, and unifies the essential components of running a service business into a single web-based platform, accessible from any device. Booker was acquired by MINDBODY, the leading technology platform for the fitness, beauty and wellness services industries, in April 2018. Together, Booker and MINDBODY also enable beauty and wellness businesses to sell their services online, through their website and a network of partner sites and apps, creating a seamless online booking experience for consumers. For more information on Booker, visit www.booker.com, and for more on how MINDBODY is helping people lead healthier, happier lives by connecting the world to wellness, visit www.mindbodyonline.com.




Our mission at the Center for Transformative Movement (CTM) is helping people feel good! We accomplish this through expanding awareness about Freeform/Ecstatic Dance, which, backed by evidence-based research, is increasingly recognized as a new and effective wellness modality with benefits similar to mindfulness practices and yoga. CTM offers classes and programs, publishes academic articles and develops community-wide events with organizations such as University of Colorado and City of Boulder, bringing, what we call Movement Meditation into the mainstream. We refer to this whole-body workout as 'The New Yoga' with its similar effects of energizing body, refreshing mind and elevating spirit! Visit Center for Transformative Movement at www.centerfortransformativemovement.com.




The Gharieni Group is a leading German manufacturer of high end spa and beauty beds, exclusive furniture and equipment. The company is well-known for innovative developments and its philosophy to realise the wishes of individual customers. With branches in southern Germany, the Netherlands, Belgium and France they export to more than 60 countries worldwide. Visit Gharieni at www.gharieni.com.




The HydraFacial MD® resurfacing procedure thoroughly cares for your skin, providing cleansing, exfoliation, extractions, and hydration, including Vortex-Fusion® of antioxidants, peptides, and hyaluronic acid. The HydraFacial MD® is a non-invasive, non-surgical procedure that delivers instant results with no discomfort or downtime. The procedure is immediately effective. Visit HydraFacial at www.HydraFacial.com.

Silver Sponsors




AccorHotels is a world-leading travel & lifestyle group offering unique experiences in more than 4,500 hotels, resorts and residences across 100 different countries. With an unrivaled portfolio of internationally renowned brands, including luxury offerings such as Raffles, Fairmont and Sofitel, AccorHotels seeks to create meaningful connections between its guests, hotel colleagues, brands, destinations and communities in which it operates. Relying on its global team of more than 250,000 dedicated staff, AccorHotels is committed to fulfilling its primary mission: to make every guest Feel Welcome. For more information or to make a reservation, please visit accorhotels.group or accorhotels.com.




For more than 30 years Aromatherapy Associates has been the leading experts in wellbeing through aromatherapy, harnessing the incredible powers of the finest natural ingredients, purest extracts and essential oils in their award-winning products and treatments. Each of their blends are hand crafted in their London laboratory and boast an exceptional synergy of essential oils with truly transformative effects. Founders Geraldine Howard and Sue Beechey believed in the power of an enriching aromatherapy experience to nurture the body and boost spirits. Continuing to build on this legacy, Aromatherapy Associates blends and unique spa treatments have enhanced users physical, mental and emotional wellbeing through a therapeutic and sensory journey – giving you time to stop and find balance in your life. Aromatherapy Associates continues the ethos of helping people make more mindful lifestyle choices and master the Art of Living Well. Visit Aromatherapy Associates at www.aromatherapyassociates.com.




BodyHoliday in Saint Lucia is not only a great beach vacation but it has been famed for its unique approach to health and wellbeing. The experience is a combination of the very best of a vacation combining individual tailored classes in fitness, nutrition, lifestyle and overall wellness. It is designed to be the most relaxing, rejuvenating beach vacation in the world. BodyHoliday makes a promise, "Give us your body for a week and we'll give you back your mind". It offers a range of personalized treatment, therapies while taking advantage of the most comprehensive activity and exercise schedules. What makes it great is that you can do as much or as little as you like; enjoy an active fun filled vacation or choose to lie back and do nothing at all! Visit BodyHoliday at www.thebodyholiday.com.




Borgo Egnazia is a unique place in the world: a visionary interpretation of a typical Puglian village, surrounded by millennial olive groves in the beautiful landscape of Puglia in South Italy. Far from a resort, it embodies a brand-new concept of hospitality and wellbeing based on local and authentic experiences, bringing a fresh and original feel that is found 'nowhere else', alongside impeccable service. Nestled inside the property there is Vair, the precious spa dedicated to the care of body and soul where everything is calibrated to cradle, soften, soothe with treatments of rare depth, inspired by this ancient and authentic land. Visit Borgo Egnazia at borgoegnazia.com.




First class Swiss hospitality, luxuriously appointed facilities and a stylish symbiosis of the traditional and modern: all three establishments under the Bürgenstock Selection banner excel in terms of high standards of exclusive service and each possesses distinctive characteristics – be it Bürgenstock Hotels & Resort, where you step into a world of timeless elegance and wellness on the breathtaking cliff at the Bürgenberg, 500 metres above Lake Lucerne, the harmonic and luxurious realm of relaxation at Schweizerhof Bern & THE SPA or the modern furnished 1500 square metres of the Spa du Royal at Royal Savoy Hotel & Spa in Lausanne. Visit Bürgenstock at www.buergenstock.com.




Cannuka is a medically inspired natural skincare line that combines two powerful ingredients; cannabis CBD and Manuka honey. Together, the unique healing properties of cannabis CBD and Manuka honey provide a daily skin therapy that both calms and heals skin — for your face, lips, cuticles, elbows, and anywhere else there's dryness or inflammation. In fact, it's the natural, potent anti-inflammatory characteristics of the ingredients that make it so effective. Inflammation is the one constant in skin problems, and Cannuka is specifically designed to help reduce inflammation and soothe skin. Visit Cannuka at www.cannuka.com.




Chiva-Som or the "Haven of Life" in English, is a pioneer in the Health and Wellness Resort industry. A Wellness Resort is a short/long term residential facility with the primary purpose of providing individual services for guests to develop healthy habits and lifestyle transformation. Typically over a seven-day stay, such facilities provide a comprehensive program that includes spa services, physical fitness activities, wellness education, healthy cuisine and special interest programming. At Chiva-Som, by combining Thai hospitality with international service standards, we provide personalized non-regimented wellness programmes with a holistic approach to health that includes mind, body and spirit. Visit Chiva-Som at www.chivasom.com.




Circadia is a professional skincare brand based on the skin and body's natural circadian rhythms. Chronobiology, the science of defending skin from environmental damage during the day, and stimulating internal repair mechanisms during sleep is at the core of our concept. Circadia's formulations combine pure botanicals, stem cells, second generation vitamins, and innovative peptide technology to achieve optimal skin health and beauty. Our specialty treatment products utilize these technologies to address a multitude of skin conditions, including aging, acne, dehydration, pigmentation, and rosacea. The corporate headquarters are established in the rolling hills of rural Pennsylvania where founder Dr. Peter T. Pugliese began his medical practice and early research on the physiology of human skin. Visit Circadia at www.circadia.com.




Defining the next generation of leisure wellness lifestyle and travel, CIVANA is a hospitality and real estate company founded in 2017 by best in class spa ana wellness industry leaders who originated the sustainable wellness position by connecting individual wellbeing to planetary health. CIVANA has built a platform to tether wellness programming, sustainable design and hotel asset/property management to bring a more attainable wellness experience to a larger target market, designed for today's sophisticated traveler of all ages. Inviting all who seek the journey to enjoy the four pillars of wellness–Healthy Cuisine, Movement, Healing Arts/Spa and Discovery/Enrichment Arts. Visit Civana at www.civanacarefree.com.




As the pioneer of Wellness Real Estate™, Delos is transforming our homes, offices, schools, and other indoor environments by placing health and wellness at the center of design and construction decisions. Delos helps create spaces that actively contribute to human health, performance and well-being by marrying the best innovations in technology, health, science, and real estate. The Delos platform includes programming, consulting, research, and an array of innovative products and technologies that research suggests may improve occupant well-being. Visit Delos at www.delos.com.




Dornbracht – since 1950, this name has signified the production of high-quality designer fittings and accessories for the bathroom. Aloys F. Dornbracht GmbH & Co. KG is a medium-sized company run by a family in its third generation whose products have received numerous awards and significantly shaped the decor, architecture and functionality in bathrooms and kitchens. This global player, with its head office in Iserlohn, Germany, enjoys a reputation throughout the industry for being highly innovative because it has the flexibility to respond to change and progress and quickly implement forward-looking concepts along the entire value-added chain. Dornbracht's long-term commitment has also established it as a relevant protagonist in the European cultural scene. Visit Dornbracht at www.dornbracht.com.




Herbalife Nutrition is a global nutrition company whose purpose is to make the world healthier and happier. We have been on a mission for nutrition – changing people's lives with great nutrition products & programs – since 1980. Together with our Herbalife Nutrition independent distributors, we are committed to providing solutions to the worldwide problems of poor nutrition and obesity, an aging population, skyrocketing public healthcare costs and a rise in entrepreneurs of all ages. We offer high-quality, science-backed products, one-on-one coaching with an Herbalife Nutrition independent distributor, and a supportive community approach that inspires customers to embrace a healthier, more active lifestyle. Visit Herbalife Nutrition at www.herbalife.com.




Hyatt Hotels Corporation is a leading global hospitality company with a portfolio of 14 premier brands and more than 700 properties. The company's purpose-to care for people so they can be their best-informs its business strategy and efforts to attract top colleagues, build relationships with guests, and create value for shareholders. Its subsidiaries develop, own, operate, manage, franchise, license or provide services to hotels and resorts, branded residences, vacation ownership properties, and fitness and spa locations under the Park Hyatt®, Miraval®, Grand Hyatt®, Hyatt Regency®, Hyatt®, Andaz®, Hyatt Centric®, The Unbound Collection by Hyatt®, Hyatt Place®, Hyatt House®, Hyatt Ziva™, Hyatt Zilara™, Hyatt Residence Club® and exhale® brand names. Visit Hyatt Hotels at www.hyatt.com.




Established in 2013 and headquartered near Boston, iGetBetter, Inc., a mobile digital health & wellness company, develops and markets cloud-based software monitoring solutions designed to help hospitals and wellness institutions to engage patients &clients remotely in their rehabilitation and achievement of lifestyle goals. The mobile APP uploads biometric vital data e.g. body composition, weight, steps, activity minutes, calories burnt/consumed, sleep hours, heart rates etc. gathered by wearables devices onto the monitoring dashboard of the coach. Vital data of each client is displayed and analysed allowing the coach to follow up with the client based on real-time measurements. iGetBetter is a very effective tool to guide clients through their critical treatment phase after leaving wellness institution, building a strong and lasting relationship with coach and institution. Visit iGetBetter at www.igetbetterwellness.com.




Immunocologie is a skincare brand with its foundations rooted in one woman's personal journey. Following a diagnosis of cancer, and with over 30 years of experience in the skincare industry, Karen Ballou understood that the skin is the first line of the body's immunological defense – and wanted to create a skincare offering as luxurious as it is healthy, natural and effective. These principles are the basis of the Immunocologie brand, which is uniquely focused on the source of the skin's performance and wellbeing: its immune health. Visit Immunocologie at www.immunocologie.com.




The award-winning 40-room luxury wellness resort in Austin, Texas has been at the forefront of organic gardening and healthy cuisine for 20 years. Today, a luxe water taxi transports guests to the idyllic lakeside destination to enjoy science backed wellness classes on the water, Culinary Experience weeks and cooking classes, hiking, yoga and more than 130 weekly classes. Over 100 unique and healing services are offered at the resort's 25,000-square foot LakeHouse Spa. Sublime interiors with original art and antiques, coupled with breathtaking interactions in nature and Conscientious Cuisine prepared by Executive Chef Stéphane Beaucamp create an immersive wellness experience for guests seeking respite and retreat. Visit Lake Austin Spa Resort at www.lakeaustin.com.




Lefay Resorts was founded in 2006 by the Italian entrepreneurs Alcide and Liliana Leali, with the aim of creating a collection of eco wellness resorts based on a modern reinterpretation of the traditional notion of "luxury", a strong commitment to environmental sustainability and a new innovative concept of global wellness. The first Resort of the Group, opened in 2008 at Lake Garda in Italy, has received more than 50 international awards and is now one of the leading spa destinations in the world. The expansion strategy of the brand foresees the opening of a second Wellness Resort in the Italian Alps. For more information visit www.lefayresorts.com.




Since 1989, Lemi's comprehensive range of beauty and spa equipment has been based on: design, research, technology, quality, functionality, craftsmanship and meticulous finishing. These principles are essential for manufacturing products with an unmistakable Italian style, and have allowed the company to bring authentic Italian craftsmanship to over 100 countries worldwide.In fact, the company's treatment tables, treatment chairs, multi-sensory equipment, vichy showers, furnishing accessories and multifunction cabins are the fruit of its constant research and development activities, which have led Lemi to become an international leader and trend-setter in the industry. Visit LEMI at www.lemigroup.com/en.




LightStim, the leader in LED Light Therapy, has been serving the medical and spa industry for over sixteen years. The benefits of using non-invasive, light based energy to stimulate, rejuvenate and heal are well documented. With the benefits ofLightStim MultiWave® Patented Technology a new level of total body wellness and peak physiological function has been achieved. Commemorating the recently launched first and only FDA-Cleared LED Bed, LightStim welcomes the opportunity to promote wellness in cooperation with a like-minded community. Visit LightStim at www.lightstim.com.




In 2017, Hyatt's growing portfolio of wellbeing offerings grew to include Miraval and Exhale brands. Opened in 1995, Miraval Arizona pioneered the destination wellness spa resort category with its comprehensive program of activities, experiences, and personal treatments. Activities include fitness, meditation, yoga, well-being, equine, hiking, biking, and metaphysical exploration. Miraval Life in Balance Spas opened in April 2016 at Monarch Beach Resort in Dana Point, CA, and in November 2017 at Park Hyatt St. Kitts Christophe Harbour. Additionally, Miraval will unveil two new properties including Miraval Austin and Miraval in the Berkshires in 2019. With 23 locations in the U.S. and Caribbean, Exhale offers dozens of proprietary boutique fitness classes and award-winning healing spa therapies to address both mind and body. Visit Miraval Group at www.miravalresorts.com and Exhale at www.exhalespa.com.




OM4 Organic Male is the first skin type and condition-specific professional men's line to launch in the US. On the leading edge of performance-based, green science organics, OM4 globally sources clinically-advanced, socially-responsible ingredients to target the unique biological skin differences and concerns of men. The brand mantra: 4 PRODUCTS | 4 STEPS | 4 MINUTES | 4 MEN. Color coded by skin type with each step numbered, OM4 is intuitively designed to be fast, easy and effective. OM4's core business is to help partners: (1) grasp the psychology of selling to men, and (2) capture a greater percentage of the fastest growing market in spa.
Visit OM4 Organic Male at www.om4men.com.




Headquartered in Akron, Ohio, Performance Health is a leading designer, manufacturer and marketer of branded massage, spa, rehabilitation, and wellness products sold into a variety of U.S. clinical markets, leading national retailers and in over one hundred countries through a multi-national network of distribution partners. The Company's product offering includes an innovative line of market-leading topical analgesics, professional massage products and a broad range of rehabilitation and wellness products. Performance Health markets its diverse product offering under the well-known and highly recognized TheraBand®, Biofreeze®, Cramer®, Bon Vital'®, Thera°Pearl® and Perform® brand names.Visit Performance Health at www.performancehealth.com.




Founded in 2003 PURE is the global leading provider of healthy indoor spaces. With locations serving 15 international markets, PURE has partnered with industry leaders in hospitality, maritime, fitness, scholastic, office and residential applications. PURE's patented seven step Wellness program purifies every surface and air particle, providing environments that exceed industry standards by more than 50%. Whether you're traveling for business, cruising for pleasure, providing the healthiest work or fitness environment, PURE's wellness environments are a sanctuary of peace, health and tranquility. Every surface is allergy friendly, and the air is as pure as an ocean breeze. You can feel fresher, breathe deeper, and live better. Currently over 2.5 million people per month experience PURE Wellness spaces. Winner of the innovation award from the School of Hospitality Management at Cornell, and the coveted Parent Tested Parent Approved seal of approval award, PURE is evolving quickly as the number one name in indoor environmental quality and wellness. Visit PURE at www.purespaces.com.




Each week guests at Rancho La Puerta Fitness Resort and Spa in Tecate, Baja California, Mexico, renew their minds, bodies, and spirits on a journey to true wellness. Founded in 1940, The Ranch pioneered the concept of a true destination spa, for both its guests and employees. Over 440 employees and their families are part of the Employee Wellness Program, which provides daily fitness classes, complimentary medical services, and healthy living workshops on topics such as chronic disease prevention and nutrition. The Ranch is dedicated to ensuring that both guests and employees live long, healthy, active, and inspired lives. Visit Rancho La Puerta at www.rancholapuerta.com.




For over a decade, Canada-based ResortSuite software has managed guest information and streamlined operations for some of the most prestigious spas, clubs, hotels and resorts in the world. Unlike other software available on the market, ResortSuite is built on a guest-centric technology platform that enables properties to manage their business more efficiently and provide exceptional service to their customers. ResortSuite extends this unique, guest-centric design with data mining capabilities and integrated one-to-one e-Marketing, Social Networking, Web and Mobile user experiences. ResortSuite includes integrated modules for Spa, PMS, Club, Golf, Retail, F&B, Catering, Ski, and Concierge on an Oracle database. Visit ResortSuite at www.resortsuite.com.




Serenbe is the leading global wellness community focused on all aspects of a well-lived life. Featuring a range of homes, an organic farm, a wellness center, Swim Club, arts and cultural programing, multiple restaurants and boutiques plus over 15 miles of nature trails, all set within hundreds of acres of preserved land. Serenbe is a biophilic model for building community with nature first and wellbeing at its core. Walk out your back door into nature and out your front door for a world-class meal; the best reason to live here is the life here. Visit Serenbe at www.serenbe.com.




Six Senses Hotels Resorts Spas are discovered in some of the world's most beautiful places. They are synonymous with a unique style – authentic, personal and sustainable, and in harmony with individual surroundings; local, yet in tune with the wider world. They are intimate, offering an emotionally intelligent approach to anticipative service, which supports delightful and unexpected surprises. Crafted guest experiences stimulate, energize and revitalize the human spirit, spa and wellness programming is all pervasive. All aspects of Six Senses' operations, including the Evason brand, embrace these values, which define the brand and the enduring Six Senses mission: To help people reconnect with themselves, others and the world around them. Visit Six Senses at www.sixsenses.com.




Skylonda Lodge provides the perfect escape from the fast pace of modern life. Conveniently located just 20 minutes from Silicon Valley and less than an hour from San Francisco, Skylonda Lodge is a blissful and luxurious getaway in the Redwood Forest. Skylonda Lodge offers two programs: 4-days and 7-days. Rates include Luxury accommodations, Daily Farm to Table Organic meals, daily programming including Guided Hikes, Circuit Training, signature Outdoor Obstacle Course, Restorative yoga, and use of the Spa facilities including Saline Pool, Jacuzzi, Sauna and Daily Massage. Some evening Expert lectures on Healthy Living, Stress Management and Cooking demonstrations are also included. Visit Skylonda Lodge at www.skylondalodge.com.




Starpool is a worldwide recognized leader in realising wellness and spa facilities in Italy and abroad for over 40 years. With its Made in Italy excellence, Starpool aims to create a genuine, 360°wellness culture, based upon technology, innovation and design for both the professional and private sectors. Authentic wellbeing does not simply mean providing equipment and services. Starpool offers a different approach: a comprehensive design enriched by building and maintenance of functional tailormade wellness paths. From ergonomic space design to materials selection, from installation to products, accessories and services let Starpool be the ideal partner for creating high-performance wellness ecosystems. Visit Starpool at www.starpool.com.




Founded in 2016, the subz3ro experience takes the spa concept on a new dimension where ground-breaking and innovative cold therapy treatments are taking the wellness sector by storm. Recently recognized as Top Luxury Spa Mexico and Global Leader in Cryotherapy, subz3ro specializes in cryostimulation – a form of Cold Therapy, which safely reduces the skin's surface temperature below zero, reducing the body's chronic inflammation and improving overall wellness. Although often considered a recovery treatment for elite athletes, subz3ro's success has been its focus on leveraging cryostimulation as an alternative to invasive treatments such as BOTOX® and PRP, reducing cellulite and spider veins to rejuvenate and enhance the appearance and feel of the skin. Visit subz3ro at www.subz3ro.mx.




For more than 30 years, over 30,000 spa professionals in 47 countries have trusted Universal Companies to be their single-source supplier, providing thousands of products to help them manage and grow their businesses. Located in beautiful and historic Abingdon, Virginia, we distribute furniture, fixtures, equipment, implements, supplies, and spa apparel to customers from the largest spa to the independent practitioner. Universal Companies also offers professional skin and body products, retail items, and merchandising tools, and provides spas with innovative consulting services, educational materials, and training options. For more information about Universal Companies, please call 800-558-5571 or visit www.universalcompanies.com.




Vinoble Cosmetics is a [c]lean luxury skincare brand delivering exclusive services for the premium spa and beauty industry. Proven treatment concepts inspired by Traditional European Medicine are brought together with result-driven and natural formulations. However, Vinoble Cosmetics goes beyond just skincare. Continuous investments are dedicated to creating customized solutions and unique added-values for business partners, as well as end consumers. The connection to nature and the respectful allocation of resources lie at the core of the brand. The entire product portfolio – 100% made in Austria – is certified as vegan and cruelty free. A regional supply chain and in-house production allow for a minimal environmental impact. Ultimately, Vinoble Cosmetics comes forth with a new approach to luxury: simple, lean and responsible, with the mission of sharing skin happiness all over the globe. Visit Vinoble Cosmetics at www.vinoble-cosmetics.at.




Westin Hotels & Resorts, a leader in wellness and hospitality for more than a decade, empowers guests and associates to take back control of their well-being while traveling through the brand's Six Pillars of Well-Being: Sleep Well, Eat Well, Move Well, Feel Well, Work Well and Play Well. At more than 220 hotels and resorts in nearly 40 countries and territories, guests can experience offerings that include the iconic Heavenly® Bed, RunWESTIN™, TRX® Suspension Training equipment, Peloton and Westin Gear Lending with New Balance, among others. Stay connected to Westin: @westin on Twitter and Instagram and facebook.com/Westin. Visit Westin at www.westin.com.




Zeel created Massage On Demand® in 2012 and is the leading and largest on-demand massage company with 9,000+ LMTs in its network of 65+ U.S. cities. Available in homes, hotels, workplaces, and events, Zeel offers the most reliable/highest quality on-demand massage service in as little as an hour, 365 days a year. With best-in-class security and white glove customer service, customers enjoy massages in the comfort and convenience of the place and time of their choosing. Booking and payment are made easy with Zeel's app for iPhone and Android. Zeel also offers Zeel Spa®, on-demand staffing solution for spas; Zeel Concierge®, enables hotels to provide in-room massages; and Zeel Corporate Wellness, which brings chair massages to companies. Vsit Zeel at www.zeel.com.