TREND: A New Era of Transformative Travel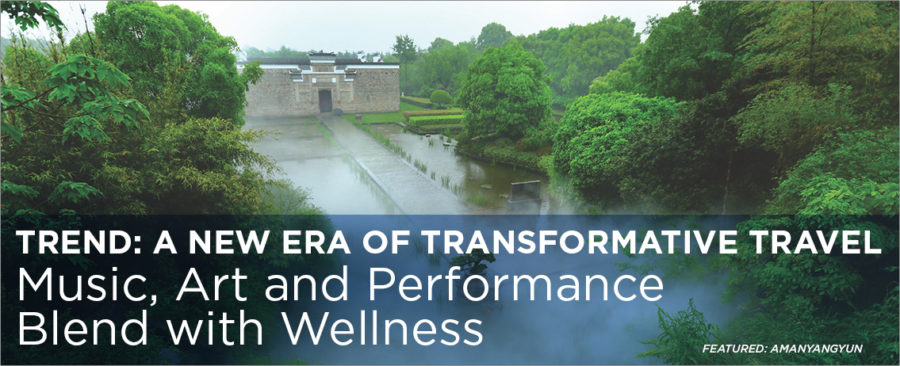 Music, Art and Performance Blend with Wellness
A clear trend in wellness travel is storytelling blended with wellness experiences, an aspect of the hot new trend "Transformative Travel." In other words, not only are more performance, music, art and literature being served up at wellness destinations, but now wellness and the art/performance are being blended together—such as soaking in hot springs while taking in a play or meditating in the galleries of art museums. Last year the Global Wellness Summit named "Arts & Creativity Take Center Stage" a top trend, but trends don't have an annual expiration date, and this one only gets more forceful and creative.
At the just-opened Amanyangyun near Shanghai (shown above), the resort's vision is equal parts arts/culture and wellness. The centerpiece is a cultural pavilion recreating the 17th-century scholars' studios of China: a place to learn, contemplate and practice traditional arts, such as calligraphy and painting, or watch one of their frequent Kunqu Opera performances.
And there is a new twist: arts/culture and wellness experienced together. The dramatic expansion underway at Australia's famed Peninsula Hot Springs will rewrite what it means to be simultaneously immersed in performance and spa. And The New York Times recently reported on museums that are incorporating wellness by offering experiences, such as yoga and meditation, that reflect and deepen the experience of their collections.
One clear future for wellness travel is experiences that wrap people up in a dramatic story or sense of theater that can incite that elusive, perspective-changing interior journey.
Forecasting The Future
Art and music therapy (whether experienced or practiced) has some of the most powerful medical evidence of all wellness approaches. But the creative arts have had too small a role at wellness destinations. Their star will rise: we'll see more art and live performance happen at hotels, wellness retreats and fitness studios—just as more destinations will get people painting, writing, music-making, etc.
The blending of art and wellness (and hospitality) is everywhere: from the music festival and club scene now being remade by wellness to hotel concepts like 21c Museum Hotels where the brand immerses people in contemporary art to more performative wellness, such as sound baths/meditation. New intersections between wellness and the arts, design and fashion—and the business opportunities they present—will be a key topic at the 2018 Global Wellness Summit.


This is an excerpt from the TRENDIUM, a bi-weekly communication exploring the wellness trends identified in the 2018 Global Wellness Trends Report.
Subscribe to the TRENDIUM. | View TRENDIUM Full Issue.