Fifth Season of the Global Wellness Summit Podcast Features One-on-One Conversations with Summit Keynote Speakers, Wellness Icons, Authors, Designers & Disruptors
Guests include Dr. Jeffrey Rediger, Author of CURED; Joanna Frank, CEO of Center for Active Design; Dr. Howard Murad, Skincare Pioneer; Abby Brody, Education Disruptor; Dr. Sharon Malone, Women's Health Expert; and Clodagh, Pioneer of Design for Well Being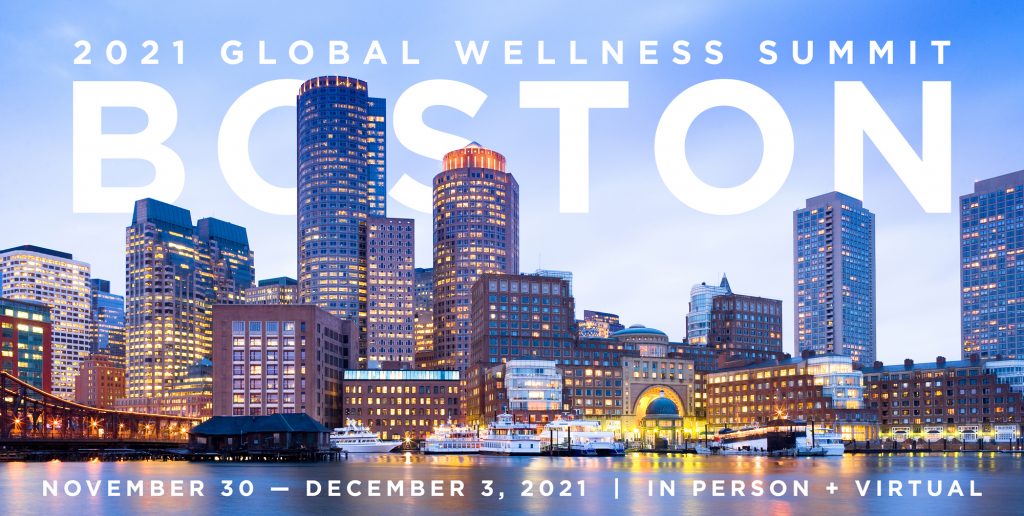 Miami, FL – November 18, 2021 – The Global Wellness Summit (GWS) announces an exciting lineup of guests for the fifth season of the Global Wellness Summit Podcast, reflective of the 2021 Summit theme "A New New Era in Health & Wellness." The six-episode series will not only showcase groundbreaking voices in wellness and the world of design, but it will also offer one-on-one, origin story conversations with four of the top keynote speakers at this year's Global Wellness Summit being held at the Encore Boston Harbor from November 30 to December 3, 2021.
Ranging from the science behind spontaneous healing to a disruptive new idea for the college experience, this season continues to feature conversations with unforgettable thought leaders from all sectors of the multi-trillion-dollar wellness economy. The Global Wellness Summit Podcast is the leading wellness podcast dedicated to exploring the latest industry research and the real-world impact of evidence-backed wellness trends.
Hosted by wellness industry veteran Kim Marshall, the conversations are lively and down-to-earth, with a unique chance for listeners to get to know industry icons and to have wellness principles brought home to a real-world audience. Partly recorded at the first ever Global Wellness Institute Real Estate Symposium this fall in New York City, season five of the podcast will be posted weekly starting November 17, 2021, in this order:
Clodagh — This Hall of Fame designer was born in Oscar Wilde's summer home in Ireland, and she was one of the first to put forth the idea that good design can support wellbeing. Today her sleek, minimalist designs in hotels and homes as well as her products like carpet, furniture and fixtures are as recognizable and exquisite as a Balanchine ballet. The episode is co-hosted by Veronica Schreibeis Smith, the wellness architect featured in Episode #34 and the Global Wellness Summit "2020 Leading Woman in Wellness."
Jeffrey Rediger, MD — Harvard University professor, psychiatrist and theologian, Dr. Rediger wrote CURED: The Lifechanging Science of Spontaneous Healing after nearly 20 years of research. Dr. Rediger's surprising life story—one that took him from Amish country to the Ivy League and the jungles of Brazil—is a message of hope and healing that is not to be missed.
Joanna Frank — With the health of indoor air being paramount in a post-COVID world, come hear the optimistic attitude of Joanna Frank, former member of the Bloomberg administration in charge of opening healthy grocery stores in the city's "food deserts." Frank will discuss changing the health of buildings everywhere. Now President and CEO of the Center for Active Design, she works in concert with the Centers for Disease Control to offer FitWel Certification for buildings around the US.
Abby Brody — Education disruptor, lifetime educator, and former administrator at the World School, Brody will discuss why the traditional college track is leaving families shackled in debt and students without life skills needed to succeed in the workforce. Hear why she's created a new kind of university experience called MYX.
Dr. Howard Murad — A skincare pioneer who has been granted 19 patents and authored three books, Dr. Murad will talk about his career of firsts: first doctor-backed skincare line and day spa; first dermatologist to link skincare with healthcare; first to identify the cellular water principle and the dangers of cultural stress. Find out how being a son of hardworking, positive minded immigrants and nurturing his artistic side has influenced his work.
Dr. Sharon Malone — Dr. Malone is among the nation's leading OBGYNs with a focus on the specific health challenges associated with menopause. The youngest of eight children from Mobile, Alabama, she went on to graduate cum laude from Harvard University and obtained a medical degree from Columbia University. Her husband is Eric Holder, US Attorney General during the Obama Administration. Dr. Malone is the Medical Director of ALLOY, a telehealth platform specializing in women's health, and she will be joined by ALLOY co-founder Monica Molenaar in this episode.
This season's sponsor is Miskawaan Health Group, an integrated medicine company with centers in Thailand, Hong Kong and Germany. Miskawaan uses highly accredited doctors, scientists, and oncologists–as well as technology solutions such as artificial intelligence and machine learning–to create cutting-edge, highly personalized treatments, specializing in preventive medicine, post-cancer rejuvenation therapies, and women's health.
S'Well The Agency produces the Global Wellness Summit Podcast with Crate Media, a full-service audio and design team producing over 60 different podcasts. Podcast host Kim Marshall is the co-founder of S'Well The Agency. The GWS Podcast is free to listen to on Apple Podcasts, Spotify, and everywhere podcasts are available.
---
About the Global Wellness Summit —The Global Wellness Summit is the premier organization that brings together leaders and visionaries to positively shape the future of the $4.5 trillion global wellness economy. Its future-focused conference is held at a different global location each year and has traveled to the US, Switzerland, Turkey, Bali, India, Morocco, Mexico, Austria, Italy and Singapore. GWS also hosts regular virtual gatherings, including Wellness Master Classes, Wellness Sector Spotlights and Investor "Reverse Pitch" events. The organization's annual Global Wellness Trends Report offers expert-based predictions on the future of wellness. The 2021 Summit will be held in Boston from November 30–December 3.
Registration is now open for the in-person 2021 Global Wellness Summit event at the Encore Boston Harbor; space is extremely limited.
Virtual attendees have access to all on-stage presentations–live and on-demand–as well as online breakout and networking sessions hosted by Anna Bjurstam, Six Senses Wellness Pioneer. Register to attend virtually here.
Media: To apply to attend virtually or in-person as press, please fill out the media accreditation form.