GWS Leader Livecast

TWO PEOPLE. FIVE QUESTIONS. TEN MINUTES.
#FIVEINTEN via Instagram Live.
Follow us on social media to watch GWS Leader Livecasts and
join the conversation using the hashtag #GLOBALWELLNESSSUMMIT
---
Leader Livecast Archive
Jessica Shea, Senior Director, Spa & Fitness Operations, Americas, Hilton
Terry Gilbey, GM & CEO, Esalen Institute
Nancy Davis, Chief Creative Officer and Executive Director, GWS & GWI
Sara Kranjčec Jukić, Global Brand Manager, Lelo
Chip Conley, Airbnb Strategic Advisor for Hospitality & Leadership, and Founder of Modern Elder Academy
David Stewart, Founder & CEO, Ageist
Louie Schwartzberg, Filmmaker
Shama Patel, Founder & CEO, Clean Your Dirty Face
Dr. Kevin Chapman, Licensed Clinical Psychologist, Anxiety Specialist
Jacqueline Gifford, Editor in Chief of Travel & Leisure Magazine
Lisa Michaelis, CEO & Founder, LIVE LOVE SPA
Bill Bensley,Creative Director and Founder of BENSLEY
Stacy Shoemaker, Editor in Chief, Hospitality Design Magazine
Kathryn Moore, Managing Director, Spa Connectors
Randi-Mae Stanford-Leibold, Wellness Counsellor, Canada
Gloria Caulfield, Vice President of Strategic Alliances, Tavistock & Executive Director, Lake Nona Institute
Jim Chenevey, President & CEO, Earthlite, LLC
Jean-Guy de Gabriac, Founder, TIP TOUCH International and World Wellness Weekend
Dr. Alan Bauman, Hair & Scalp Specialist, Bauman Medical
Fumiko Takatsu, Founder and CEO, The Face Yoga Method
Rick Stollmeyer, CEO & Co-Founder, MINDBODY
Filip Boyen, CEO, Forbes Travel Guide
Belgin Askoy, Founder, Global Wellness Day
Alcide Leali, CEO, Lefay Resorts & Residences
Wallace J. Nichols, PhD, Marine biologist and author of the New York Times Bestseller, Blue Mind
Pietro Simone, Founder, Pietro Simone Skincare
Laurie Jennings, Deputy Editor & Director, Good Housekeeping and GH Institute
Giselle Fernandez, Anchor and producer Spectrum News1; Five-time Emmy award winning journalist, producer, film maker and Latin media marketing entrepreneur
Anna Bjurstam, Wellness Pioneer, Six Senses Hotels Resorts Spas
Scott Duffy, Host, "What Now?"
Terrie Hansen, Senior Vice President Marketing, Virtuoso
Jean Godfrey-June, Executive Beauty Editor, goop
Martin Palmer, Theologan and Environmentalist
David Dronet, Owner, The Springs Resort & Spa
Davide Bollati,Chairman, [ comfort zone ]
Victor Brick, CEO, Planet Fitness Growth Partners
Dilip Barot, Founder, Amrit Ocean Resort & Residences
---
About the #FIVEINTEN Host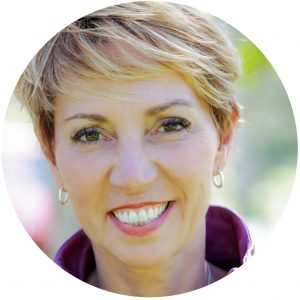 Kim Marshall, Co-Founder, S'Well Public Relations
Having worked as an executive at iconic properties like the Golden Door, Rancho La Puerta and the Grand Wailea Resort, Kim founded The Marshall Plan in 1995 as the first communications firm in the U.S. to specialize in wellness, sustainability and wellness tourism, working with brands from Hyatt to Hilton and destinations from Turkey to Tahiti. Kim served on the Board of the International Spa Association and the Green Spa Network, was a member of the Global Wellness Institute's Beauty to Wellness Initiative and she is the original of 92 Global Wellness Day Ambassadors from around the world.  In 2018 she co-founded S'Well Public Relations to laser focus on the many facets of the global wellness economy and in 2019 she created, co-executive produced and became the Host of the Global Wellness Summit Podcast.