TREND: A New Feminist Wellness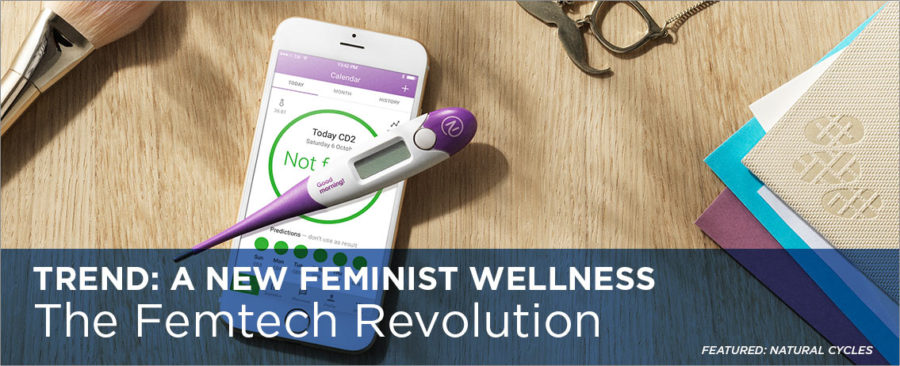 The Femtech Revolution
One of the most exciting recent wellness trends is women doctors, technologists, scientists, designers and entrepreneurs inventing a waterfall of smart, "I get it" products and tech solutions aimed at solving for women's unique needs, bodies and sexuality. Even though we've had three waves of feminism, the fact is that women's bodies and lives have remained woefully underserved. Consider: Women's health accounts for a pitiful 4 percent of overall funding for research and development for healthcare products/services.
But now there's a powerful "Femtech" wave, which refers to any technology aimed at improving women's lives. And it's one explosive market: In 2016, CB Insights reported that 45+ Femtech start-ups had raised $1.1 billion, but in March 2018, Frost & Sullivan forecasted a Femtech market potential of $50 billion by 2025.
The Femtech mission: identify a health/wellness pain-point for women and crack the code. One crucial development is new fertility cycle and hormone tracking apps, which let women monitor their fertility and hormones in real time and could disrupt pharma-based contraception and fertility strategies.
Examples: cycle-tracking app Clue from Berlin or Sweden-based Natural Cycles (featured above), the first app to be officially approved as a valid form of contraception. There's a whole lot of new "solving" for periods, such as start-ups like Thinx with cute "period panties" that replace tampons and pads, 100 percent organic tampon subscription companies like Cora, or the MyFLO app that lets you analyze your menstrual cycle like a scientist. There's a slew of smart, connected pelvic floor exercisers, such as Elvie Kegel Trainer or Yarlap—as well as a whole new world of high-tech sex toys for women, such as Lioness. Companies like Hologic are innovating for less painful mammograms while Willow is creating more intelligent, cooler breast pumps.
Forecasting The Future
The past was a very male healthcare and venture capital world, pretty much ignoring the specific needs of women's bodies and life realities. The future: far more (often women-founded) companies creating well-tech solutions for women—whether for teenagers, older mothers or post-menopausal baby boomers.
Some analysts argue that Femtech is a niche market. Huh? Women make up 50 percent of the global population. And this trend all comes down to one undeniable fact: the sheer global growth in women's spending power—with nearly all leading economic thinkers agreeing that the economic future is very much female. By 2028, it's estimated that women will control close to 75 percent of discretionary world spending—and women are 75 percent more likely to use digital health tools than men are.
When there's been a focus on women in the health world, it's mainly revolved around fertility, maternity, childcare, etc. But women's body and mind issues are very specific. The tech companies that identify what women most authentically need can reach a vast, once-ignored market with ever-more spending power. Improving women's lives through technology has a hot future.


This is an excerpt from the TRENDIUM, a bi-weekly communication exploring the wellness trends identified in the 2018 Global Wellness Trends Report.
Subscribe to the TRENDIUM | View TRENDIUM Issues