TREND: A New Feminst Wellness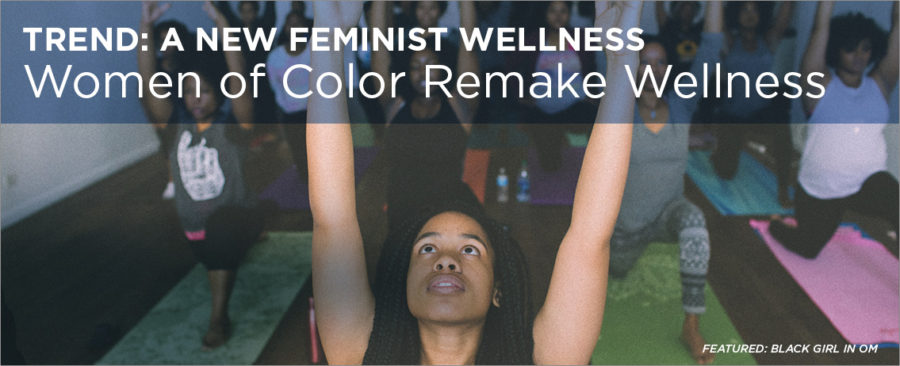 Women of Color Remake Wellness
The wellness industry has long—and extremely justifiably—been criticized for projecting a very narrow image: a tall, young, skinny, white woman. It's maddening for women of color and just about most women. If #WellnessSoWhite has been a disturbing reality, we're seeing entrepreneurial women of color jump in to solve for women of color, such as new for-them fitness or yoga classes and beauty brands rolling out cosmetic lines to suit dozens of skin tones.
We'll see more women of color become more visible and powerful in wellness generally, whether as fitness influencers or company founders—remaking wellness as a much less white space. There will be more fitness and yoga classes and wellness retreats designed as empowering sanctuaries for women of color. The pioneer was Black Girl in OM from Chicago, a multidimensional wellness brand that "creates space for women of color to breathe easy": a collective of classes (like Self-Care Sundays), health workshops, and an online publication and podcast Om that reaches women of color well beyond Chicago.
The beauty industry is getting an inclusivity shake-up, finally creating products beyond the old "three shades of brown" for women of color. The big story in 2017: the launch of pop star Rihanna's beauty brand, Fenty, a cosmetics line that includes foundation in 40 shades. It has lit up social media on the topic of diversity in beauty and raked in a cool $72 million in earned media in its first month. Vogue named it (and greater inclusivity in beauty generally) a top 2018 beauty trend, saying Fenty Beauty "singlehandedly changed the conversation."
More women of color will stake their rightful space in wellness in 2018.
Forecasting The Future
The wellness world has long had a diversity problem. And a lack of inclusivity in the images it projects and products/solutions it offers is not only unwell by nature, it's dumb business strategy—as globally we're fast becoming a much more diverse society. (For example, non-whites are forecast to be the majority in the US and Europe around 2050.)
The future is… More fitness/wellness studios for women and people of color, such as Sanchia Legister's Yogahood and Gyal Flex (the latter a creative mix of hip-hop and meditation) in London. More beauty brands will heed the (profitable) Fenty beauty lesson, creating cosmetics that truly reflect women's actual skin tones. More wellness apps, podcasts and media platforms will be aimed at women of color (such as Black Zen). More wellness festivals and travel will be designed for women and people of color (whether Om Noire retreats or wellness/urban music festival, Broccoli City). The global trend of a more inclusive wellness will be on the agenda at the 2018 Global Wellness Summit.
#WellnessLessWhite is the future…finally.


This is an excerpt from the TRENDIUM, a bi-weekly communication exploring the wellness trends identified in the 2018 Global Wellness Trends Report.
Subscribe to the TRENDIUM. | View TRENDIUM Full Issue.