Meet Your Virtual Host
For the 2021 Global Wellness Summit

In a world that has turned upside down the past year,
health has become the ultimate wealth.
However, it is not easy to decipher the world of wellness, and what excites me is that the Global Wellness Summit and Institute are the guiding lights on all levels of wellness, whether economy, energy medicine or beauty. At no time in history has this Summit been more important, to come together and shape the future, get the pulse of what is happening, where to invest either your focus, services or even finances, and hear from the leading experts in their respective field.
It is an honor to be hosting the virtual Summit again, where this year we can listen and interact on a whole new level. It will be much more than listening in on the great talks that will be on stage in Boston; there will be discussion groups, exclusive Q&A with some of our keynotes, and contributions from the virtual audience, which makes this virtual GWS unique and highly valuable to anyone interested in the future of health and wellness.
I hope you will join me and be a part of this important conversation on the "New, New Era of Health and Wellness" with other leaders in wellness, medicine, health care policy, technology, wellness real estate and communities, mental health, private equity, pharmaceuticals and the arts.
– Anna Bjurstam, Wellness Pioneer, Six Senses
---
Registration Information & Fees
The 2021 Global Wellness Summit will be a hybrid event. The Summit's virtual attendee fee includes:
• Access to all sessions that take place on the main stage of the 2021 GWS at the Encore Boston Harbor, including keynotes, presentations, panels and more
• Access to online videos and presentations after the Summit
• Access to the Global Wellness Institute's research that will be released at the 2021 Summit
• Engage with other virtual attendees and your virtual host throughout the Summit; your questions and input will periodically be brought center stage
• Access to the GWS 2021 Mobile App offering a direct connection to fellow delegates throughout the globe
---
Virtual attendees may proceed directly to registration,
no pre-approval is required.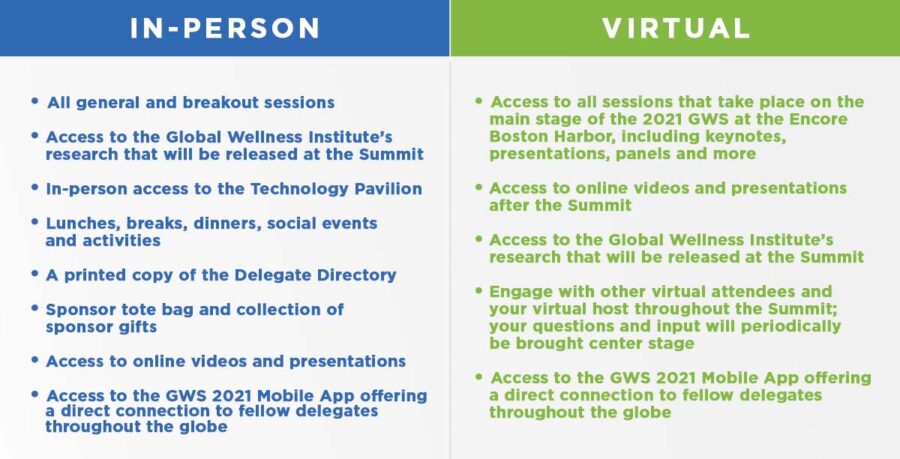 ---
NETWORKING
One of the things I get asked is "Will I have a chance to network with colleagues?," and the answer is yes! I will be hosting a few "Networking Breaks" during the Summit, where we will do a number of smaller networking breakout rooms. Those interested in talking one-on-one will be put into exclusive Zoom breakout rooms to talk, exchange information, and do business.
---
ACCESS
Being able to interact with some of the luminaries presenting at the Global Wellness Summit world is a unique feature of the virtual Summit experience. Several people have agreed to participate in this moderated Q&A format, so those online will be able to talk directly with Fred Tsao, Founder, OCTAVE Institute; Michael Roizen, M.D., Cleveland Clinic; Victor Koo, Chairman, Tianren Culture; Anjan Chatterjee, M.D., FANN., Founding Director, Penn Center for Neuroaesthetics; the research team from the Global Wellness Institute: Tonia Callender, Katherine Johnston, Ophelia Yeung; Mickey Beyer-Clausen, co-founder and CEO, Timeshifter, and more.
---
DISCUSSIONS
Even though we will not be in Boston, we will have a lot to say! I will be leading forums on specific topics, and you will all be invited to contribute thoughts and ideas, which will find their way into the larger conversation in Boston. We will also be recording these conversations so the ideas can become part of the pantheon of information coming out of the 2021 Summit.
---
TECH INNOVATION PAVILION
Last year the GWS launched the Tech Innovation Pavilion, where various companies shared their cutting-edge products and services. It was a huge hit and is now part of the Summit every year. To give all of us in the virtual world a glimpse into this hub, we will be sharing videos from the Pavilion innovators.
---
SUMMIT APP
As participants in the virtual Summit, you will be receiving a link to download the event app, which gives you information about the program, speakers and sponsors, and also provides a way to connect to those both in person and online.
---
SOCIAL MEDIA
Be sure to use your favorite social media channels to express your thoughts to the world using #2021GWS! We have ramped-up our presence on Instagram, Facebook, Twitter and LinkedIn. And it's fun to stay in touch with everyone in Boston and be part of the conversation threads through social media!
---
Follow us on Social Media
#2021GWS