"Trends Shaping the Wellness World in 2022"
Beth McGroarty, VP, Research & Forecasting
This Master Class took place on Wednesday, March 2nd, 10AM-11AM EST
Every year, wellness businesses look to the Global Wellness Summit (GWS) for its highly anticipated annual trends report to help navigate changes across all sectors of the wellness industry. This year's 110-page report, The Future of Wellness 2022, identifies 10 wellness trends: from a new soil-focused and survivalist wellness—to the men's body image crisis and women's health research gap finally getting addressed—to the rise of the wellness metaverse, certified wellness coaches, urban wellness playgrounds, and healthier senior living models. One thing this forecast makes crystal clear: the future of wellness will be anything but a "restart" of 2019. What consumers now need most, what they perceive as "true wellness," has profoundly changed.
View our first Wellness Master Class of 2022 as GWS Chief Creative Officer & Executive Director Nancy Davis hosts a lively and provocative discussion with Beth McGroarty, GWS VP, Research and Forecasting, on the "Trends Shaping the Wellness World in 2022."
View the Wellness Master Class Series >>
---
Global Wellness Annual Trends Report:
"The Future of Wellness 2022"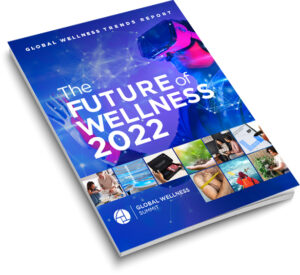 People around the globe have been talking about a post-pandemic future since the pandemic first made headlines more than two years ago. But the wellness market emerging from coronavirus is anything but a return to 2019. The Future of Wellness 2022 trends report reveals that what consumers are demanding has profoundly changed—and that wellness is taking provocative new directions.
Experts have identified 10 wellness trends: from a new soil-focused and survivalist wellness—to the men's body image crisis and women's health research gap finally getting addressed—to the rise of the wellness metaverse, certified wellness coaches, urban wellness playgrounds, and healthier senior living models. PURCHASE NOW