Global Wellness Annual Trends Report:
"The Future of Wellness 2022"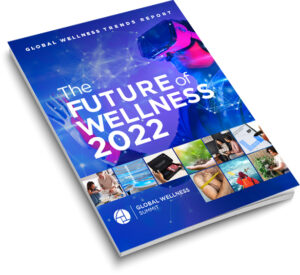 People around the globe have been talking about a post-pandemic future since the pandemic first made headlines more than two years ago. But the wellness market emerging from coronavirus is anything but a return to 2019. The Future of Wellness 2022 trends report reveals that what consumers are demanding has profoundly changed—and that wellness is taking provocative new directions.
Experts have identified 10 wellness trends: from a new soil-focused and survivalist wellness—to the men's body image crisis and women's health research gap finally getting addressed—to the rise of the wellness metaverse, certified wellness coaches, urban wellness playgrounds, and healthier senior living models.
Order the full digital report for $95  Add to cart
The TRENDIUM is a compendium of the trends impacting the multi-trillion dollar global wellness economy. Subscribe to stay informed and receive the latest news and insights. Sign-up for bi-weekly TRENDIUM emails.
---
Overview of The 10 Wellness Trends for 2022:
Order the full digital report for $95  Add to cart