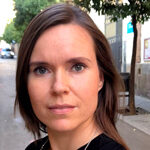 Hanna Poikonen, Ph.D.
Founder, WiseMotion Community
Dr. Hanna Poikonen is a researcher in neuroscience of movement, cognition and creativity. Currently, she deepens her knowledge in higher education at ETH Zurich in Switzerland and in rehabilitation at Örebro University Hospital in Sweden. Based on her academic work and education in dance, somatic methods and martial arts, she has created the WiseMotion method on neuroscience, creative movement and meditation which she has taught in North America, Europe, Asia, and on different online platforms.ng this time, Freddie developed a passion for mental health one that is a primary consideration in all strategies he develops today.