Lanserhof Sylt
Island Sylt, Germany
In the summer of 2022, the Lanserhof Sylt was opened; construction work began in November 2017. The focus here is complementary to the naturopathic approach on cardiological rehabilitation for acute and chronic diseases. In addition to the range of classic check-ups and individual therapies, diagnostics using MRI and CT are also available. Dr. Jan Stritzke, former head physician of cardiology at the Nordseeklinik Westerland and currently deputy medical director at Lanserhof Tegernsee, is the medical director of Lanserhof Sylt.
Tranquility, regeneration and revitalization: On a floor space of 20,000 square meters you will find the most modern treatment, consultation and exercise rooms. Our spacious spa area includes saunas and steam baths, as well as a resting place, in addition to our innovative fitness area. The indoor and outdoor saltwater pool with countercurrent system is located in the dunes, sheltered from the wind by the sun terrace. From there you can enjoy a breathtaking view of the tranquil Wadden Sea. The spacious, modern style is also reflected in the 55 rooms and suites, each one furnished to a high standard. Natural, selected materials, as well as harmonious and minimalistic rooms, are the building blocks of the health-promoting architecture, which focuses on your holistic recovery.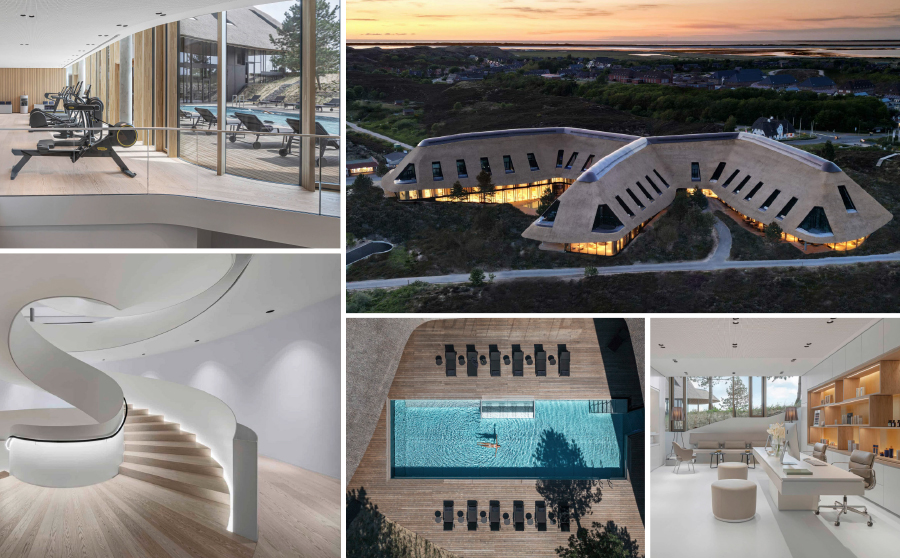 KEY FACTS:
Number of Rooms: 55
Square Footage: 20.000 m2
Opening Date: 2022/2023
LOCATION:
Am Lanserhof 1-8, 25992 List/Sylt, Germany
FEATURES: 
The Lanserhof Concept: The Lanserhof Concept is internationally regarded as one of the world's most pioneering holistic health concepts. By combining natural remedies from traditional medicine with advanced medical knowledge, it helps our guests to achieve healthier, happier lives filled with zest and energy.
Lanserhof Energy Cuisine: The Lanserhof Energy Cuisine concept focuses on long- term success. It was designed with today's health-conscious consumers in mind to improve their sense of wellbeing. It strives to enhance your delight in food, cooking and eating. What better way to satisfy the body's long-term need for energy than to provide it with a tasty diet of top-quality, easily digestible food? Lanserhof Energy Cuisine contains all of the insights achieved by modern food research, as well as lessons learned from nutritional philosophies from every corner of the globe.
Health-promoting architecture: At Lanserhof Sylt, you can expect privacy, spaciousness, deceleration and concentration on your own body. In harmony with nature, you can gather new energy and relax in seclusion. The health-promoting architecture puts you and your holistic recovery at the center. A reduced, timeless design language with harmonious rooms, which pick up on the surrounding nature in their form and materials, gives you space to be. The enduring, unique nature of Sylt, in combination with the new, modern Lanserhof Sylt, with its flowing architecture without corners and edges and a holistic health concept, enables your body to organize its self-healing powers in a new and sustainable way.
---
Interested in showcasing your property?
Each year, the Global Wellness Summit (GWS) presents recently opened and reimagined wellness destinations, communities, workplaces and residences leading innovation and growth in the exploding sectors of Wellness Tourism and Wellness Real Estate through the Wellness Property Showcase. The Showcase is presented online for 12 months as well as in a beautifully presented publication presented to hundreds of delegates in print at the four-day annual Summit, providing significant exposure to C-level decision makers who are the leading influencers in health and wellness. In addition to this year's showcase, explore the Wellness Property Showcases from 2020 and 2021. Properties featured in the 2023 Showcase will receive benefits through online exposure from June 1, 2023, to May 31, 2024, reaching the large audience of engaged wellness tourists and business leaders through the online Showcase and GWS digital marketing channels.
Interested to showcase your property? For more information about this exclusive opportunity, contact Michelle Gamble.